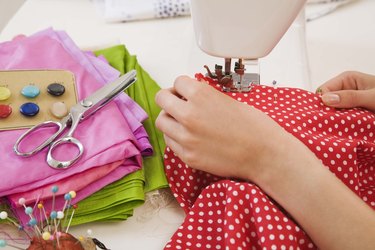 The Singer 7256 Fashion Mate sewing machine has a top drop-in thread bobbin and an automatic needle threader. The digital display on the side of the machine is used to select different stitch settings on the machine. When the display reads error code E2, it means that there is a bobbing threading error, which may be caused by the thread looping or bunching under the fabric as you sew.
Step 1
Push the bobbin-winding spindle of the sewing machine back to the left.
Step 2
Turn the hand-wheel toward you, hold the needle thread (thread on the sewing machine needle) and tug it lightly as the needle goes down and then raises up. A small loop will raise up through the needle plate on the sewing machine. Use the tip of a pen to lift the loop up through to the back of the machine.
Step 3
Check the position of the needle. It should be seated in the sewing machine with the flat side facing the back of the machine. If it is not, remove the needle and reinsert it so that it is facing the correct way.
Step 4
Remove the bobbin case. Use a screwdriver to turn the screw on the side of the bobbin until the loops of thread pull taught and are removed.
Step 5
Remove any loose fibers or threads that may be stuck in the tension disks.
Step 6
Reset the upper tension disks. Raise the presser foot lever up. Put the tension setting of the sewing machine on setting "4." Hold onto the spool of thread in your right hand and with your left, route the thread down through the tension channel, around the bottom of the disk and up the other side. When done correctly, the thread will click into place and slip in between the tension disks.
Step 7
Set the thread bobbin in the bobbin case, with the thread passing over the top of the bobbin and then down to the right. Route the thread through the notch located at the left of the bobbin case and pull it through. Move the thread over the top of the throat plate and over to the back of the machine.
Tip
Using incorrect bobbins may cause error E2 to occur. Not all plastic bobbins are the same size, so check the model number of the bobbin to ensure that you are using the correct one with your sewing machine.
Warning
Never turn the hand-wheel on the sewing machine away from you, as it will change the timing on the sewing machine.