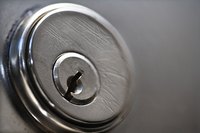 While keys can secure cars and homes from intruders, a broken key will keep even you from accessing your own vehicle or house. Whether the key was weak or you applied too much pressure, a broken key can delay you from an appointment as you seek out the nearest locksmith. However, if you have the right tools available, you won't have to rely on a locksmith to extract the broken key.
Things You'll Need
Lubricant
Coping saw blade
Needle-nose pliers
Method 1
Spray a lubricant into the keyhole. This will allow the key fragment to slide out more easily.
Insert a coping saw blade into the keyhole. You can substitute the coping saw blade for another serrated blade or a fishing hook.
Lock the teeth of the coping saw with the teeth of the key fragment.
Pull the key fragment toward you until the edge of the key is visible. Proceed slowly to avoid further breaking.
Grip the visible end of the key with needle-nose pliers and drag the fragment free from the cylinder.
Method 2
Remove the screws around the cylinder with a screwdriver.
Place the cylinder on a flat surface and spray lubricant into the keyhole.
Insert a stiff wire or flat-head screwdriver into the back of the cylinder. This will push the key fragment out of the cylinder.
Grip the edge of the key with needle-nose pliers and extract the broken fragment.