Things You'll Need
Recycled silk sari yarn

Plastic bangle bracelet or bracelet-sized plastic ring

Aluminum crochet hook, size G or H

Scissors

Tapestry needle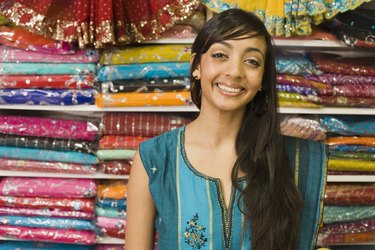 Sari silk is a brightly colored and vibrantly patterned fabric used to create the garments worn by women in countries such as India and Nepal. The end cuts of this silk are pieced together and sewn to create a silk ribbon yarn, which can be used to create a multitude of craft projects, while helping to support women in Third World countries who create the yarn to support their families. Handmade silk bracelets make one-of-a-kind gifts for birthdays and teacher gifts, and are an entertaining project for tween and teen parties or sleepovers.
Step 1
Make a slip knot and slide it onto your crochet hook. Insert your crochet hook into the center opening of the bracelet, yarn over, and pull up a loop the full height of the bracelet on the inside of the bracelet. Yarn over once more and pull through both loops on the hook. This creates a single crochet that rides over the width of the bangle, with the row of stitching sitting along one edge.
Step 2
Single crochet evenly around the perimeter of the bracelet, pulling stitches tight to ensure that the sari silk fully covers the bracelet.
Step 3
Slip stitch into the first stitch to join. Cut the yarn and finish off, leaving a 3-inch tail.
Step 4
Thread the end of the sari silk yarn into the tapestry needle and sew beneath the stitches on the inside of the bracelet to bury the end of the yarn.
Tip
Use a smaller G hook for smaller width bracelets and the larger H hook for wider bangles.
Recycled sari silk yarn is available at specialty yarn shops or at online yarn boutiques.
Silk ribbon, ribbon yarn, or bulky weight knit and crochet yarns can be substituted to create different looks.
Change yarns every inch to create a striped bracelet.
Thread the yarn with beads before beginning your project and slide them up randomly to sit along the outer surface of the bracelet as you work for a funky, eclectic look.
Warning
Loose or uneven stitches may cause your bangle to unravel, or the sari silk to slide against it, revealing the plastic beneath.