Things You'll Need
Yarn pieces

Rug canvas

Latch hook tool or crochet hook

Scissors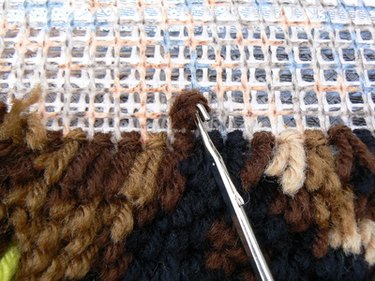 If you know how to latch hook, you can create rugs in a variety of patterns and styles. Purchase a latch-hook kit and follow the instructions to create a pre-printed rug design or improvise one of your own. Latch hooking takes short pieces of yarn and an open-weave canvas to create colorful rugs. Though you won't want to wipe your feet on a latch hook creation when you finish one, it will surely make a decorative addition to your home.
Step 1
Fold a scrap of yarn in half so that it forms a loop at one end. All of your yarn scraps should be approximately the same length, around 4 inches long. Position the latch hook tool or crochet hook in the center of this loop and hold the yarn to the hook with your index finger.
Step 2
Poke the latch hook tool or crochet hook through one hole in the canvas from the top to the bottom, then back out from bottom to top through the hole directly above your inserted hook. The yarn loop should pass through the hole with the tool so that the yarn loop is now on the underside of the canvas.
Step 3
Use your left hand to lift the two free ends of the yarn loop up and catch them with the hook portion of the latch hook tool or crochet hook. Pull them through the canvas, passing them through the loop at the other end of the yarn as you go. Now the yarn ends should dangle out of the canvas near the hole where you first inserted your hook.
Step 4
Remove the latch hook tool or crochet hook from the yarn loop and tighten it with your fingers by pulling on the free ends of the yarn. Do not worry at this time if the yarn ends are uneven.
Step 5
Repeat this process to fill all of the holes in the latch hook canvas, making a pattern as you change colors. If you have a pre-printed pattern, it will tell you which holes to fill with specific yarn colors. Use a pair of scissors to trim all of the yarn ends to the same length when you finish the rug.