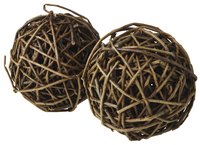 Wicker balls are decorative balls made of bent wood or other plant fibers -- the same materials used to make wicker furniture. They have an open, basket-like look and can be altered to fit the decor of a wedding by interweaving them with flowers or lights. Incorporate wicker balls into centerpieces or hang them with strings of lights. They are lightweight and easy to work with for DIY wedding decorations.
Things You'll Need
Wicker balls
Hot glue gun
Fake or real flowers
White Christmas lights
Primer
Paint
Foam paintbrush
Temporary adhesive-backed hooks
Lights
Choose wicker balls that are already painted white. If you can't find any, prime and paint them yourself with latex paint and a foam brush. Apply a second or third coat, if needed, to get full coverage.
Stick a light bulb from a string of white Christmas inside a wicker ball so it is tightly wedged between two pieces of bent wood. Shake the ball slightly to make sure it is secure. If you need to, use a dab of hot glue to secure it in place.
Repeat Step 2 to cover all the lights on the string. Cover as many strings of light as you need. Use balls that are the same size for an orderly look or use different sizes for a more organic look.
Hang the strings of lights along the edges of the reception hall or tent using temporary adhesive-backed hooks. Alternatively, use battery-operated lights and place the lighted balls on the tables.
Centerpieces
Select different-sized rattan balls in a color that matches your wedding decor. You need about 12 balls per table.
Select a glass bowl for each table that is large enough to hold the 12 balls.
Buy fake flowers that match the real flowers in the bridal bouquet. You can use real flowers instead, but you will need to add them at the last minute. If you use fake flowers you can prepare the centerpieces days in advance.
Cut individual flowers off of the stems and cut off the leaves.
Poke the flowers and leaves into the wicker balls, between the pieces of bent wood. Use hot glue to secure them in place if necessary. Cover the balls completely for a lush look or leave some of the wood showing for a more natural look. Place the balls with the flowers in bowls in loose piles and place a bowl at the center of each table.