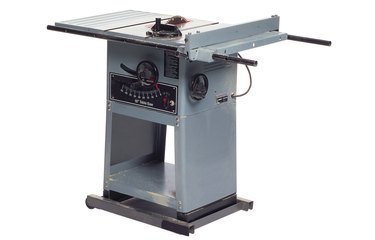 The main part of baseboard installation is cutting the baseboards. When a baseboard reaches the corner, you have to cut it at a 45-degree angle. It then meets a second baseboard, also cut at a 45-degree angle, to form a perfect 90-degree angle at the corner. You can accomplish these precise cuts with your table saw. While you cut, hold the baseboard tight so it does not jump when the cutting blade hits it.
Step 1
Hold the baseboard against the cutting blade. Lower the cutting blade until it sits one saw tooth higher than the baseboard's thickest edge.
Step 2
Loosen the lock lever on the front of the table saw. Turn the wheel next to the lock lever until it indicates the blade is at a 45-degree angle to the right. Set the lock lever to hold the blade in place.
Step 3
Measure the space between the last piece of baseboard and the corner. Transfer this measurement to a piece of baseboard. Draw a straight line down the baseboard to indicate the cutting line.
Step 4
Lay the baseboard on the table saw. If you want the cut to angle to the left, lay the baseboard face down. If you want the cut to angle to the right, lay the baseboard face up. Butt the baseboard up against the table saw's fence. Adjust the fence to line up the straight line on the baseboard with the cutting blade. Cut the baseboard along the line.