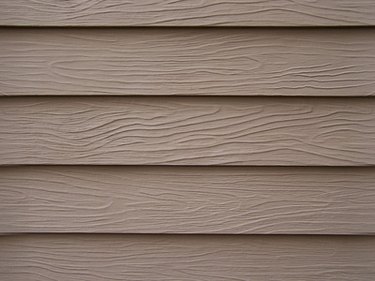 Vinyl siding is more than just siding, it's an entire system with numerous accessories to ease installation and make for a neat, professional appearance. Since vinyl siding expands and contracts with changes in temperature, a number of trim pieces have been devised to allow for seasonal movement without buckling or gaps. Vinyl siding components are available in a variety of colors and textures.
Variety
Vinyl siding products mimic traditional wood products, and are available in a wide variety of styles and colors. Most common are horizontal lap siding styles, but vertical siding and even shingle styles are available.
Starter Strip
Starter strip attaches the first course of siding at the bottom.
Inside Corner Trim
Inside corner trim provides a finished appearance at inside corners while still allowing for seasonal expansion and contraction.
Outside Corner Trim
Outside corner trim, or corner posts are used to cap outside corners. Bay window corner posts are available to fit corners other than the standard 90-degree angle.
J Channel
J channel is the universal workhorse trim piece for vinyl siding installations. J channel is used to give a finished appearance to end cuts in many situations, for instance where siding abuts a door or window. Flexible J channel is available to conform to curved objects. Two pieces of J channel can be substituted for inside corner trim.
Window and Door Casing
Window and door casing is a specialized version of J channel with a wider profile. It is used primarily around windows and doors in new construction.
Under Sill Trim
Under sill trim is used to finish off the top edge of vinyl siding, as under a window sill or at the soffit line.
F Channel
F channel is used where vinyl soffit intersects the wall.