Things You'll Need
Marker

Table saw

Ruler

Speakeasy grille with hardware

Power drill

Door hinges

Fine-grit sandpaper

Coarse-grit sandpaper

Power sander

Door pull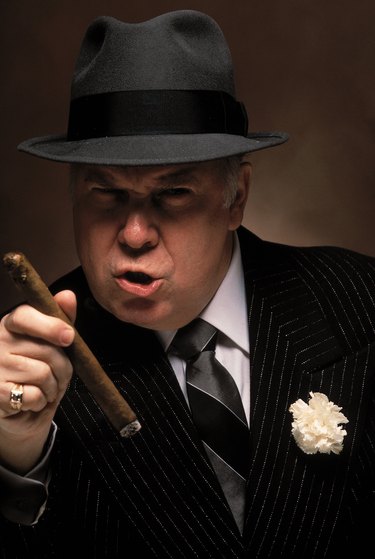 Back in the days of Prohibition, speakeasy saloons kept hired goons by the door to bar entry from intruders. You may not have a goon at your disposal, but you can always install a speakeasy door in your front door, just like the bars used to. A speakeasy door is like a small trap door built into your door at eye level -- when someone comes knocking, you simply open it up for a sneak peek at whoever is outside. The size you choose to make yours is up to you, but these doors are typically less than 1 square foot in size.
Step 1
While your door is still in place, mark where it is eye level for your height. This is where you will place your speakeasy door. Remove the door from the door frame and set it down in your work space.
Step 2
Cut a small square or rectangular hole in the door -- approximately 9 square inches in size or less. Center it horizontally, and place it vertically where you marked your eye level. Sand down any rough edges on both the door and the piece that you cut out.
Step 3
Flip your door over so that the outdoor side faces up if it is not already in that position. Center your speakeasy grille over the hole you cut out and install it. The installation process depends on the hardware that came with the grille -- for example, you may need to pre-drill holes in the door, thread bolts through and attach nuts on the opposite side.
Step 4
Flip the door back over so that the grille faces down. Screw two small door hinges into the piece that you cut out earlier, then screw those pieces into the rectangular hole you cut out. The piece should fit snugly in place, but if the hinges make it too wide, sand down the side opposite the hinges with a high-grit sandpaper and a power sander to shave it down gradually until it fits.
Step 5
Drill a small hole into the side of the tiny door so that it can accommodate a door pull. Screw the door pull into place in the hole. You can now open the tiny speakeasy door, and the grille on the opposite side prevents intrusion from the outside. Reinstall your door into the door frame.