Things You'll Need
Picture of medieval helmet

Fine point marker

Craft knife

Sand paper

Metallic spray paint

Adhesive back hook and loop fasteners

Scissors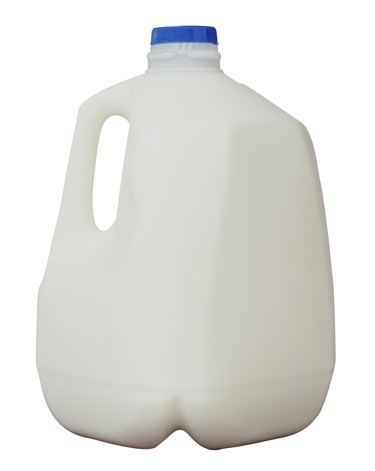 In medieval times, armor was standard protection for soldiers on the battle field. This included wearing helmets to shield the wearer from dangers to the head and face. In modern times, medieval-style helmets are impractical for soldiers, but they still make for fine costume ideas during Halloween and other costumed occasions. The look of medieval-style helmets is achievable with a modified plastic milk container, which offers plenty of space for a kid's head.
Step 1
Rinse the milk container with warm water and let it dry.
Step 2
Look at a picture of a medieval helmet to get a sense of how the face sits in the mask. Use it to guide to cutting the space in the milk jug for the wearer's face.
Step 3
Hold the jug upside down with the handle facing you. Use the marker to draw an oval space around the handle. Be sure there will be enough space to allow the wearer's face to show through. Next, cut through the plastic following the line you drew.
Step 4
Cut horizontally to remove the milk jug's spout. This leaves two holes in the container, one for the face and one for the chin. A thin strip of plastic should remain between the face hole and the chin hole.
Step 5
Rub sand paper along the cut edge to smooth. Next, spray the jug with the desired color of metallic spray paint and allow to dry according to the manufacturer's label.
Step 6
Cut directly in the center of the thin layer of plastic between the face and chin spaces. This makes the chin strap with a left and right side. Place one side of the loop-and-hook fasteners on the outer side of the right strap and the pair of the fastener on the inside of the left strap. Put the fasteners on the very edge of the straps.
Step 7
Put the helmet on from the top rear of the wearer's head, so the chin straps are near the chin.