When you have a lot of birds in your yard, you may think of putting out a birdhouse to allow them to find a safe place to build a nest. However, many store-bought birdhouses are expensive. One solution is to make a birdhouse yourself using materials that can be found around the house. For example, create a simple birdhouse using a plastic milk jug as a base. This enables you to provide a home for the birds without breaking your pocketbook in the process.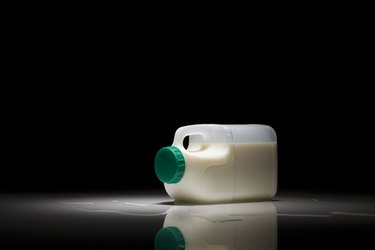 Things You'll Need
Paintbrush

Plastic 1-Gallon Milk Jug

Scissors

Waterproof Latex Paint

Awl

Twine
Step 1
Wash out a gallon-sized milk jug with water, and allow the jug to dry completely.
Step 2
Cut out a 2-inch wide circle from one side of the plastic milk jug using scissors. Position the circle so that it is directly in the center of the milk jug's side. Discard the cut out piece.
Step 3
Cut a piece of twine using scissors to measure 18 inches long.
Step 4
Take the top off of the plastic milk jug, and set the top aside. Poke an awl into the milk jug, 1 inch below the top of the jug. Poke a second hole directly opposite the first.
Step 5
Insert the ends of the twine into the holes, one end per hole. Pull the ends up through the top of the milk jug, and tie the ends into a knot. Place the top back onto the milk jug.
Step 6
Decorate the outside of the milk jug birdhouse using waterproof latex paint. Allow the paint to dry for 30 minutes before hanging the birdhouse up on a tree.
Tip
Pour bird seed into the bottom of the milk jug to transform it into a bird feeder.
Warning
Keep sharp scissors out of the reach of children.