Things You'll Need
10 newborn diapers

8 elastic bands

10 wooden dowels,1/4-inch wide

Green floral tape

Silk leaves

8 size 1 diapers

Green floral foam

Cake tray or round plate

1-inch wide ribbon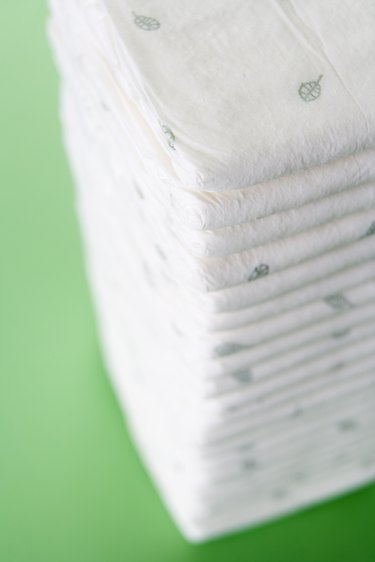 Create adorable baby shower centerpieces from a few disposable diapers and some floral embellishments, or use cloth diapers for items mother can use after the event. The diapers are individually rolled and wrapped to look like flowers and then inserted into a vase made of more rolled diapers. You can customize the centerpieces by adding silk greenery and ribbons in the baby shower's colors, or make a miniature diaper bouquet for the guest of honor.
Step 1
Lay 10 newborn diapers on your work surface. Begin at the short, folded edge and roll up each one like a jellyroll. Wrap an elastic band around each roll, about 1/3 of the way up the diaper. This pinches the bottom section, making the diaper look a bit like an opening blossom.
Step 2
Insert a 1/4-inch wide wooden dowel into the center of each roll. The wooden dowels should each be slightly different lengths, ranging from 3-1/2 to 5 inches long.
Step 3
Cut a long piece of floral tape and wrap it around the bottom third of each diaper, pulling tightly to pinch the bottom together even more to make the flower shape. Continue winding the tape down the length of the dowels. Hold the stem of a silk leaf against each dowel as you wrap the tape to add greenery to the bouquet.
Step 4
Lay eight size 1 diapers on your work surface, roll them up like jellyrolls and wrap an elastic band around the center of each.
Step 5
Place a piece of green floral foam on the center of a small cake tray or other round plate. Arrange the eight rolled diapers around the foam to make a diaper vase. Wrap a long ribbon around the diaper vase to hide the elastic bands.
Step 6
Insert the ends of the wooden dowels into the floral foam to complete the diaper bouquet.
Tip
Spray paint each diaper in bright, cheery colors before making them into flowers.
Wrap the diaper vase with tulle to add further embellishment.
Spray the finished flowers with a floral-scented perfume.