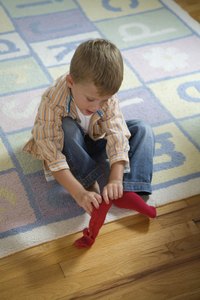 Plain socks are not any fun. If you are helping a boy put personality into his socks, you can use all of the same embellishments you would use to decorate other cotton garments. You can even modify a sock puppet design for a wearable, crazy-looking sock by confining the embellishments to the tube of the sock. This project is an off-beat party craft that boys are sure to enjoy since they can personalize the creation to suit their interests.
Things You'll Need
Cardboard
Fabric paint markers
Glitter paint
Ribbon
Ric-rac material
Fabric glue
Jingle bells
Large beads
Google eyes
Hot glue
Clip art
Iron-on transfer paper
Computer and printer
Scissors
Iron
Bottled fabric puff paint
Put a small piece of cardboard inside each sock to stretch it out and create a flat surface. It will also prevent any paint or glue from seeping through from one side to the other.
Write on the socks with fabric paint markers. Write names or theme words that pertain to a favorite sport, story or personal interest such as dinosaurs or robots.
Add colorful bands around the tube of the sock to create stripes. Draw the bands with paint markers and glitter glue. Draw on one half of the tube at a time, to allow the paint or glue to dry before turning it over to finish the band. Affix bands of ribbon or ric-rac material around the sock with fabric glue.
Apply jingle bells or large beads around the top edge of the sock. Jingle bells are an especially fitting choice for a Christmas craft. Use beads that are about the size of a game piece and are shaped and painted in boy-approved imagery like trucks or animals. Glue google eyes around the sock as the foundation for monster faces. FInish the faces with paint markers.
Print clip art onto iron-on transfer paper on your home computer. Size the images down to quarter-sized graphics. Cut them out of the paper with scissors. Iron them onto the sock to affix the graphic to the fabric.
Apply bottled fabric puff paint to the sole of the sock to give it a slip-resistant surface. Paint letters or small shapes in varying colors. Be careful not to spread the paint after you apply it. Follow the paint manufacturer's instructions to allow proper drying time.