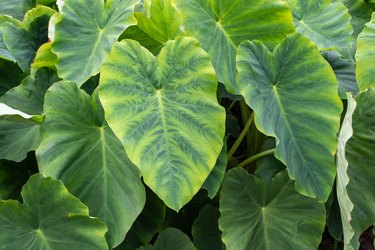 If you've ever tasted taro leaves (Colocasia esculenta, USDA plant hardiness zones 9 to 11), then you know they are a delicious and unique part of Polynesian cuisine. You can use taro leaves in a variety of sweet and savory dishes. If you're looking to cook with taro leaves, you first need to clean them properly. How should you clean taro leaves? While the process may be intimidating for this tropical root, it's easy to try at home.
Taro root requires at least 200 days of frost-free weather to grow adequately. This requirement makes them best suited for greenhouses or tropical locations that are commonplace in zones 9 to 11. Taro grows best in high humidity, making it ideal for tropical and subtropical climates. This area covers the very southern borders of the United States as well as Hawaii, where you can see wild taro growing throughout the state.
When you purchase taro from a market, it will most often come with its large elephant-ear-like leaves still attached. These leaves make for a great addition to any meal. To quickly find this hardy vegetable in your area, search the web for "taro leaves near me," which will aid your discovery of the root. Once you've found the taro root with its leaves intact, you can start to clean your taro leaves.
The first step is to cut away the leaves from the root using a sharp knife. Be careful when doing this, as the root is relatively complex and can be tricky to slice through. After successfully removing the root from the leaves, take the taro leaves and place them under cool running water. Then, place them in a bowl with cold water for 20 minutes.
After this time, you can run them under water for a second time, and if there is still any dirt or debris, continue with another cold-water soak. This process should remove any solid material left on the plant from harvest.
Taro leaves are a staple of the Polynesian culture's cuisine and are used in dishes of all kinds. It's essential to know how to cook taro leaves properly. Health experts warn that raw taro leaves contain a high amount of oxalates, a naturally occurring mineral in many plants. However, when eaten raw, these leaves can be poisonous and toxic. High oxalate levels can increase the risk of kidney damage and kidney stones. Some people may even experience an allergic reaction from simply handling the leaves.
To safely consume taro leaves, you must first cook them thoroughly. This process will remove any harmful excess oxalates in the leaves. You can try several methods, and the first is to boil the leaves for at least 30 minutes. This method works by heating the leaves to a high enough temperature to remove the oxalate. Another method is to bake the leaves for around half an hour, removing most of the harmful oxalate. The general rule of thumb for taro is the longer you can heat the leaves, the better.
Now that you know how to clean and cook taro plant leaves, you should know the benefits of consuming taro leaves. Taro is rich in nutrients like manganese, which contributes to bone health, effective blood clotting and even a better metabolism. Another benefit is its high fiber content. Fiber in the diet improves digestion and can lessen uncomfortable digestion issues, like constipation.
You can eat both the taro root and its leaves for health benefits. Taro also has good carbs and resistant starch. Food experts have studied these starches and learned that they stabilize blood sugar, leading to a decreased risk of diabetes. The high levels of potassium also help control high blood pressure, which is due to the mineral breaking down excess salt. This all points to reduced stress on your cardiovascular system.