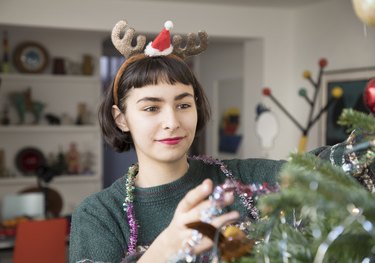 Before Rudolph became a popular Christmas character, few people would have thought about dressing up in a reindeer outfit for the holiday. Now, a baby, child or adult might don a reindeer costume for a Christmas play, a pageant or just for fun. They are not hard to make and can be pretty darn cute. You're sure to get compliments everywhere you go when dressed as a reindeer this holiday season.
How to Make a DIY Reindeer Costume
A DIY Christmas reindeer outfit does not have to be expensive since you can use things you already have in your house to make one. There are many versions, including one appropriate for the youngest Rudolphs. This costume uses either dark brown pants, leggings, a skirt or tights. Then, you'll need a matching brown jacket with a hood if possible. Depending on the age of your child, you can also buy a cheap brown hooded onesie.
Fill a pair of beige gloves with fleece or cotton for the antlers and sew them (or use fabric glue) onto either side of the hood. Another option is to buy a headband and use hot glue to attach two similarly sized twigs or soft antlers that you sew from darker fabric. You can wear dark brown or black shoes and mittens to simulate hooves. You can also sew a few bells onto the outfit and then paint on the iconic red nose.
More Christmas Reindeer Outfits
If you want a more refined version of the outfit, wear a beige long-sleeved sweater and pale tulle skirt. Cut two reindeer ears out of brown felt, put white felt in the middles and attach them to a headband. Then, find two similar twigs and attach those as well. If you don't want to resemble Rudolph, paint on a brown nose instead using brown-toned makeup.
If you are good at sewing, purchase a pattern and go from there. Try using a bunny pattern for the main body of a child's reindeer costume. The shapes are more similar than you might think. Then, cut out antlers, hooves and a nose. For the hooves, you can use a synthetic leather material. You can make the antlers from a brown suede material, stuffing them before attaching them to the head.
Stuff a sparkly red material, stitch it shut and glue it onto the costume's hood for the nose. You can form the eyes using polymer clay. The ears and eyes can also be attached to the hood. To keep the ears standing up, bend and glue a wire hanger inside them before stitching them on. This costume should take around four hours and costs approximately $20.
Other Kinds of Reindeer Outfits
If you don't want to go the reindeer suit DIY route, there are plenty of full reindeer costumes and accessories to be found online. There are adult-size reindeer onesies plus sexy ones for men and women. You can also find adorable infant-size ones complete with soft ears, white-spotted fur and antlers. There are even cute ones for dogs.
There are also pretty reindeer dresses that are perfect for young girls in Christmas pageants and plays. If you want to use brown clothing that you already have, buy a red clown nose, a headband or hat with antlers and a faux-fur deer tail. Of course, not everyone wants to go full Rudolph, so if you are a fan but want to keep it more subtle, shop for a reindeer sweater.