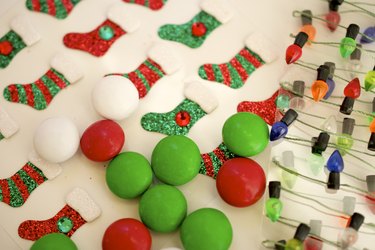 Christmas is a festive holiday season that can be celebrated by all ages. If you are looking for ways to engage your sixth-grade art class this year, choose from a wide variety of interesting, age-appropriate Christmas art projects and craft activities. Your students can even use their projects as gifts, as well as learn about working with different art mediums.
Personalized Christmas Cards
Christmas cards are as big a part of the holiday season as Christmas trees. Plan an arts and craft activity that not only taps into your students' creativity, but also gives them a handmade gift for their families. For this art activity, your students will need to plan ahead and bring family photos, including pictures of pets, to art class with them.
Provide large, blank note cards, poster board and construction paper, as well as glue, scissors, stickers, glitter, painting materials and craft pens. Instruct the sixth-graders to cut out note card or construction paper frames for their photos. They should use the hardy poster board as the backing for their photo frames. Tell them to glue the photos into the frames, and then decorate the frames with the glitter, stickers, paint and other materials. You can even provide magnets for them to apply to the back of the completed photo frames. These make nice gifts as kitchen magnets are always welcome in any household.
Gingerbread House Christmas Art Project
This is a great sixth grade project for small groups of middle school kids; limit the groups to two or three students per group. You'll need to provide glue, white cake frosting, icing decorator bags with tips, graham crackers, milk cartons from the school cafeteria, a 4x4-inch square of cardboard for each group, shredded coconut, gumdrops, mini marshmallows, licorice sticks and any other types of small, decorative candies.
Give each group white glue, a handful of graham crackers, a milk carton, a cardboard square, white icing and a decorator bag. Instruct them to glue the milk carton to the cardboard and then secure graham crackers on all four sides of the milk carton. They will use the white frosting as glue to place the graham crackers in position. Instruct them to angle two graham crackers to create a roof for the house and then use frosting to keep it in place.
Allow them to decorate the house and the rest of the cardboard square to their own personal tastes. They can use marshmallows to build a mini-snowman outside of the house or sprinkle the coconut to look like snow.
This sixth grade art project can be done at school, or you can send it home as an assignment. Provide the students with cheap, glass jar candles in red, green and white, as well as tacky glue, beads, paint and glitter. Ask your students to decorate the exteriors of the candle jars with the craft items. For example, they can paint winter scenes, such as snowflakes or Christmas trees. Alternately, if they prefer, they can just glue beads around the candle's rim to create simple designs.