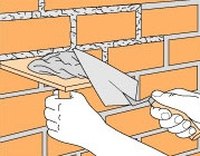 Avoid extensive, costly damage to a masonry chimney. Maintain the mortar joints by tuck-pointing (repointing) them, and make sure the chimney crown remains sealed against water.
Things You'll Need
Crown Repair And Sealing Material
Jointing Tool
Brick Trowel
Mortar Mix
Soft Brush
Cement-mixing Container And Hoe
Grinder With Tuck-pointing Attachment And Blades
High-temperature Caulk And Caulking Gun
Ladders Or Scaffolding
Mason's Hammer And Chisel
Pointing Trowel
Scraper
Square Mason's Trowel Or Board
Work from the bottom up to remove loose mortar a few feet (a meter or so) at a time. Set up ladders or scaffolding if necessary. Use a mason's hammer and chisel, a scraper and similar hand tools for difficult-to-reach areas. For extensive tuck-pointing, rent an electric grinder with a tuck-pointing attachment and blades.
Mix water into a packaged mortar mix as directed on the label, using a cement-mixing container and hoe.
Apply the mortar by first loading the bottom side of a square mason's trowel (or a board) with mortar (see A). Then, holding the trowel against the chimney just below the joint you're filling, slice off a portion of the mortar with a pointing trowel and pack it into the joint.

When the joints in an area are all full, strike off the excess by slicing through the mortar with a brick trowel held flat against the bricks.
Compress, shape and smooth the joint. Run a jointing tool across the joints for concave and V joints (see B). Or use the tip of a pointing trowel to create a 30-degree bevel from the underside of the upper course to the edge of the lower course. Knock off any excess and move up to the next section.

When the joints have set up, clean the face of the brick with a soft brush.
If a traditional crown made of portland cement and sand is badly eroded or cracked, replace it with a modern (crown-sealer) system. These coatings, which you can apply with a trowel (following the manufacturer's instructions), remain flexible and provide a far superior water seal. If the crown has some cracks and is beginning to show wear, or even if a masonry crown is in good condition, consider using this material as part of an overall chimney repair.
Seal joints between the clay flue's liner and the crown with high-temperature caulk.