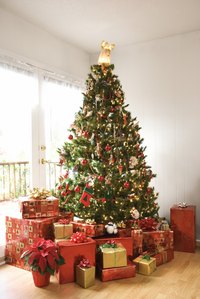 Give your Christmas decorating a twist by hanging an upside-down tree from your ceiling. According to National Public Radio, retailers in the past hung inverted Christmas trees from the ceiling to maximize floor space and facilitate larger Christmas goods displays. Inverted trees are ideal for people in apartments or small homes who wish to decorate for the holidays. An upside-down tree can display as many ornaments as an upright Christmas tree.
Things You'll Need
Measuring tape
Hammer
Nails
Christmas tree skirt
Scissors
Metal loop
Industrial-strength wire (several feet)
Metal hook
Power drill (optional)
Screws (optional)
Choose a tree location that can host other hanging decorations during the rest of the year as the ceiling holes remain after the tree's removal.
Measure the space between the ceiling and the floor. Use the measurements to determine the size of the Christmas tree.
Select an appropriate Christmas tree for your space. Place the tree in the space to ensure the size is correct. If possible, hold the tree upside down in the desired location.
Remove the wooden frame from the bottom of the Christmas tree. Nail a Christmas tree skirt to the frame. Cut a 4-inch slit in the center of the tree skirt. Nail a metal loop to the middle of the frame so it passes through the tree skirt. Nail the tree frame to the ceiling.
Wind a long, industrial-strength wire around the bottom of the tree trunk. Weave the wire through the bottom branches of the tree, and cross the wire over the bottom of the tree trunk. Place a metal hook on the bottom of the tree trunk, winding the hook securely to the trunk with the wire.
Hang the tree to the hook in the frame. Step back from the tree to determine if the upside-down tree is crooked. Adjust the wires around the hook as necessary to hang the tree straight. Remove the tree from the hook.
Use a power drill or hammer to secure the hook to the tree once you know how to hang the tree straight down from the ceiling.
String lights and garland around the tree.
Hang the tree to the hook. Arrange Christmas ornaments on the tree.