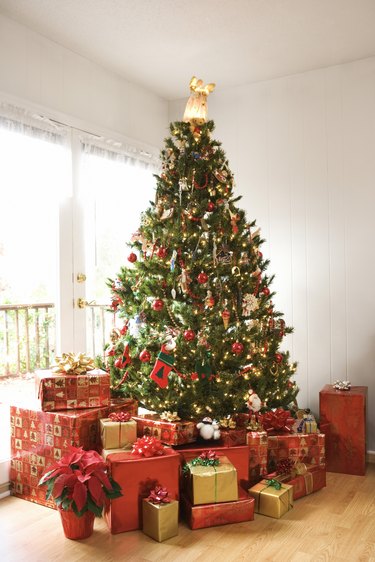 Maybe you're looking to do something a little bit different this year with your holiday tree, like a ceiling Christmas tree. Perhaps you have young children or pets who continuously try to knock down the tree and all its ornaments. Maybe you're following a tradition that dates back to before the 1500s, or you're hanging your tree upside down for personal reasons. However you've gotten there, you've decided that instead of the usual method, you're going to be hanging a Christmas tree from your ceiling.
Planning Your Hanging Christmas Tree
Suppose you're considering hanging a Christmas tree this year. In that case, you're probably looking at a small tree or set of branches, an artificial tree or a more modern design. None of these are likely to need significant structure and scaffolding to get them in place. Small trees and branch arrangements can add holiday spirit without taking up significant amounts of space. Fully upside-down hanging trees are more likely to be artificial since they're lighter and easier to shape as needed. Take a look at your options and then decide which will work best for you.
Christmas trees hung from the ceiling take up less floor space, especially when hung upside down, so you'll want to consider that when deciding where and how to hang your tree. If you're going to have lights, you'll want to make sure the tree is close enough to an outlet that you can run an extension cord without introducing a tripping hazard. Alternatively, consider battery-powered lights for smaller decorations.
Hanging Your Christmas Tree
Are you wondering how to hang a Christmas tree upside down? The most important part of hanging a tree from the ceiling is making sure everything is supported. It will ruin Christmas if everyone runs downstairs in the morning to find a gaping hole in your ceiling drywall. Figure out the weight of the tree you're intending to hang and determine whether it will need to be mounted to a ceiling stud or if you can use heavy-duty drywall screws to attach the tree. If you need to stick to the beams and studs, you'll have limited places you can hang your tree.
Upside-down trees are often attached to a base or stand with wire and then turned upside-down so that the base or stand can then be attached to the ceiling. You can also use a flat piece of wood as the base using strong wire to connect the trunk and lower branches of the tree to points on the wooden flat, which can then be screwed into place. You may also decide to use a hook from the ceiling for your Christmas tree. You can then reuse this for other decorations throughout the year.
Decorating a Hanging Tree
Whether it's right side up or upside down, you'll want to take care when decorating a hanging Christmas tree. Leave off heavier ornaments that add weight to the installation and focus on lighter decorations, like bows or tinsel.
Any ornaments you do hang should be shatterproof since there are no branches beneath to catch them if they fall. Shatterproof ornaments are usually also lightweight. Since it can be harder to reach an electrical plug with a hanging tree, consider fairy or battery-powered LEDs to keep the mood light and magical.