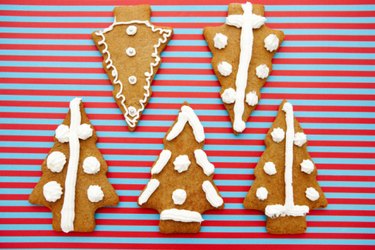 If you really want to make a statement and shock your friends and family this holiday season, consider displaying your Christmas tree upside down. As wacky as that may sound, precedent for inverted Christmas trees goes back centuries, and the original upside-down tree was imbued with religious meaning. Depending on the size of your living room, an upside-down Christmas tree can also save quite a bit of space.
Upside-Down Christmas Tree Meaning
It may seem like a modern fad, but the trend of the inverted Christmas tree is believed to have originated in Europe sometime in the 7th or 8th century, when the Benedictine monk Boniface hung a fir tree upside down. It is said that Boniface, who has since been canonized, used the resulting triangular shape to explain the concept of the Holy Trinity: Father, Son and Holy Spirit.
It later became common for low-income European families who didn't have much floor space to spare to hang their Christmas tree from rafters in their home. As construction trends changed and exposed rafters became less common, the trend of the upside-down Christmas tree dissipated. However, it has made a comeback in recent years, with London's Claridge's Hotel even displaying an upside-down Christmas tree in the lobby.
Inverted Christmas Tree Considerations
You could, in theory, hang any artificial Christmas tree from the ceiling like a chandelier by creating a hole in the trunk and threading wire through it. However, the easier and safer bet is to purchase an inverted tree that comes with a stand meant to hold the tree upside down on the floor without the need to hang it from the ceiling.
Inverted Christmas trees come in the same range of colors that you would expect from traditional trees. There are also pre-lit upside-down Christmas trees on the market if you want to cut some corners.
In addition to being a bold statement, an upside-down Christmas tree can also have the added perk of clearing up floor space for the gifts that go underneath the tree. This setup might be appealing to city dwellers who live in a small apartment or to households where there are children and pets.
Decorating Upside-Down Christmas Trees
You can decorate an upside-down Christmas tree just like you would a traditional tree with any kind of lights and ornaments that strike your fancy, and because the tip of an inverted Christmas tree is facing down, there is plenty of room for a larger or bolder tree topper than you might normally use, so feel free to experiment.
While your creativity is the only limit when decorating an upside-down Christmas tree, the rules of gravity still apply, so it is best to stick to lightweight ornaments to avoid weighing down the branches. For this reason, ribbons and tinsel are great options for decorating upside-down Christmas trees. It is also a good idea to invest in shatterproof ornaments so that you don't end up with a mess if any ornaments do end up falling off the tree.