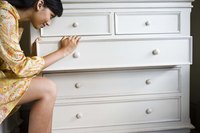 A drawer stop is a small piece of wood that prevents a drawer from sliding all the way out of a dresser or a cabinet. It prevents you from accidentally dumping the contents of the drawer out, and it is a way to add a little more security to your furniture. Make your own drawer stops out of wooden dowels to keep your drawers from spilling out if you give a hearty yank.
Things You'll Need
Cut a 2-inch length of wooden dowel using a saw.
Drill a hole through the center of the dowel.
Remove the drawer from the cabinet or dresser.
Choose a spot that is located on the inside front of the door frame. The spot should be situated along the uppermost side of the rectangular hole.
Screw the dowel segment to the spot that you have chosen. Mount the dowel so that the tip protrudes down into the drawer when it is turned vertically, but it becomes invisible if you have turned it horizontally.
Turn the dowel horizontally to slide the drawer inside, and turn it vertically to ensure that it catches the back of the drawer before the drawer can slide out.