Things You'll Need
Tablesaw

Flexible tape measure

Water

Towel

Microwave

Hammer

Finishing nails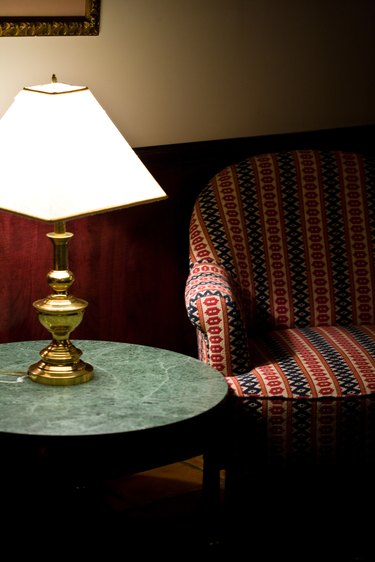 Installing wainscoting is a relatively easy task to accomplish, but installing it on a rounded corner presents some difficulties that must be overcome. Fortunately, there is an old woodworker's trick that allows you to do just that, and all you need is your table saw. By channeling the back of the wainscoting, you will give the panel enough flexibility to conform to just about any corner.
Step 1
Set up the table saw to make the necessary cuts into the back of the wainscoting panel. You will want to use the locking fence rather than the push bar for this process.
Step 2
Measure the circumference of the curvature of the wall using a seamstress' tape measure. This will tell you how much of the back of the wainscoting panel you will have to channel in order to get it to bend properly. When you have this measurement, transfer it to the middle front of the wainscoting panel to give yourself a guide for where to begin and end cutting.
Step 3
Set the depth of the saw blade to 1/16 of an inch below the lowest recess in the panel. If the wainscoting is flat, then this measurement will be 1/16 of an inch below the surface of the panel.
Step 4
Butt the panel against the fence with the face of the panel turned upward, turn on the table saw, and cut the first channel where you made a mark. With the channel cut, remove the board, move the fence 1/16 of an inch over and make another channel cut. Continue in this fashion until you have channeled the back of the panel between your measurements completely.
Step 5
Wet the back of the panel with water and allow it to soak in. It may be helpful to do this with a towel soaked in water and warmed in a microwave. This will open up the pores of the wood and allow the water to be absorbed. Wetting the wood will make it more pliable and less likely to crack when you bend the wood around the corner. Once the wood has dried again, it will stay in that shape indefinitely.
Step 6
Wrap the wainscoting panel around the rounded corner while it is still damp, tacking the edges into place with a hammer and finishing nails so that they will hold without bending back as the wood dries.