Things You'll Need
Poster board

Crafting knife

Black leather or pleather jacket

Wash cloth

Soap

Rubbing alcohol

Sand paper

White acrylic paint

Paint brush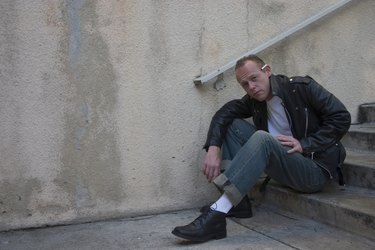 In the popular film "Grease," John Travolta's character, Danny Zuko, is a member of a group called the T-Birds. They wear matching leather jackets with a stylized representation of a bird and the group name across the back. Using some basic supplies, you can create your own T-Birds jacket to wear during Halloween or in a "Grease" play.
Step 1
Draw a large uppercase T on the poster board with block lettering. The "T" in the logo is the largest part of the T-Birds logo.
Step 2
Draw a set of small quotation marks on either side of the large T.
Step 3
Write "BIRDS" underneath the T in block lettering, in a font that makes the word run as long as the width of the large capital T.
Step 4
Draw a small bird on the logo underneath the right arm of the T. The T-Birds logo bird has its wings extended out to the side, with its head turned to face the T and its legs and tail hanging down below the wings.
Step 5
Cut out the letters and the bird shape along the drawn lines using the craft knife to create a stencil.
Step 6
Clean the back center of the jacket where the logo will be applied using a soapy water solution, then rubbing alcohol. This removes the oil coating on the leather and allows the paint to adhere more successfully.
Step 7
Sand over the areas the paint will be applied using a fine sand paper. This roughs up the surface to increase the ability to retain the paint.
Step 8
Prepare a mixture of equal parts water and water-based acrylic paint. Then apply a layer using the stencil as a guide and allow to dry.
Step 9
Flex the painted area thoroughly, and then repeat for a second layer.
Step 10
Flex the leather again, then apply a layer of acrylic paint that has not been mixed with water.
Tip
If you are not artistically inclined, you can print off a picture of a T-Bird's jacket, then trace the picture onto the poster to create your stencil.
Slick your hair back and don your jacket with a white T-shirt and rolled up blue jeans to complete the look.
Make several jackets and give them as party of holiday gifts to your "Grease"-loving friends.