Things You'll Need
Dark green eyeshadow

Brown eyeshadow

Iridescent white eyeshadow

Fishnet stocking

Eyeshadow applicator sponges

Black eyeshadow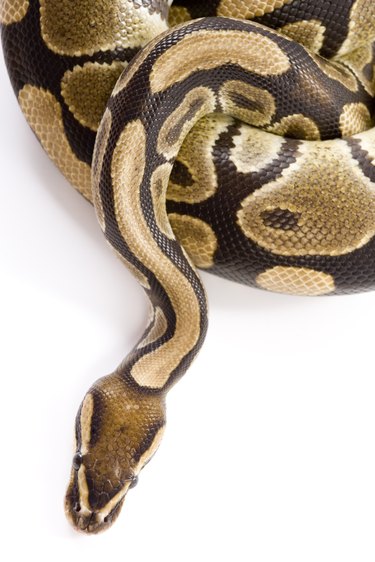 Part of the fun of makeup is creating looks based on animals, such as snakes. Whether you are looking to cover your entire face in a snakeskin pattern for a costume or Halloween party, theatrical product or other video shoot, or simply want to enhance your regular eye makeup, creating snake skin-patterned makeup requires a little patience and careful use of old fishnet stockings. The makeup can be as outlandish as desired depending on needs and preference.
Step 1
Brush greenish-brown eyeshadow over the lids and up onto the temples. Crush and mix brown and green eyeshadows in your hand, if needed, to mix the colors.
Step 2
Highlight your brow bones with a iridescent white shadow, which will also make a nice contrast to the darker makeup.
Step 3
Place a fishnet stocking carefully over your head, and stretch it as needed around your eyes. Dip a wet eyeshadow sponge applicator in black eyeshadow. Carefully fill in the holes in the fishnets with the black eyeshadow to create a snakeskin pattern. Start the pattern around the outer corners of the eyes, and work your way up to the temples. Make the pattern large to small, or all one size, depending on your preference.
Step 4
Remove the fishnet stocking very carefully from your head. You will have to wash off all the makeup and start over should you smudge your makeup while removing the stocking.
Tip
Use the same procedure to create a snakeskin pattern all over the face. Allow greenish-brown cream makeup applied to the face to dry completely, then use the fishnets. Use reptilian contacts to further enhance your snakeskin look.