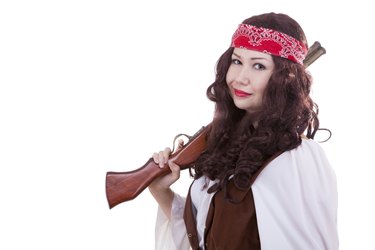 A female pirate's makeup can be minimal or elaborate, depending on the costume and character. Historically, female pirates were seafarers and adventurers who looted for a living like their male counterparts. One of the most powerful pirate captains, a Chinese woman, Cheng I Sao, commanded about 1,500 ships, reports Rachel Hanel in her book, "Pirates." Her favored punishment was beheading. Someone that powerful wears whatever she wants on her face.
Go Natural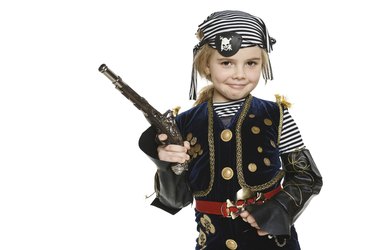 Use liquid or powder base to even out skin tone, using product in a slighter lighter shade than your skin. Apply a subtle blush such as peach for warm skin tones and rose for cool skin tones, and choose lipstick in a darker shade than the blush. You can enhance a child pirate's outdoorsy look with freckles, if desired. Moisten the blunted tip of a brown eyebrow pencil; set the tip gently against the skin on the apple of the cheek; and twist. Repeat several times in a random pattern on both sides of the face.
Sun-kissed Look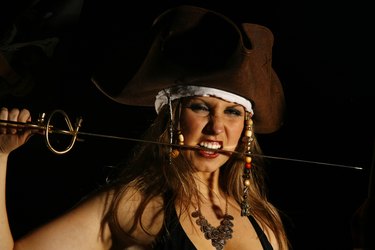 Apply face and body makeup in a tan shade or use self-tanner for a weathered glow on a fair to medium complexion. Alternatively, you can brush bronzer across the forehead, cheekbones, bridge of the nose and chin with a powder brush. A warm blush in a dark coral or rose shade highlights dark complexions. Apply lipstick slightly darker than the natural lip color. Line the eyes with eyeliner pencil and smudge the line across the upper eyelid with your finger. Gray liner goes well with blue eyes, brown with brown or green eyes, and black complements eyes of any color if you want a stronger contrast. Add taupe or violet eyeshadow across the eyelid and pearl eyeshadow below the eyebrow, if desired.
Powerful Captain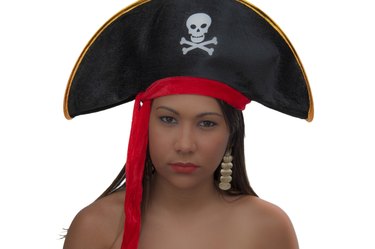 For a more dramatic-looking pirate, skip the eye patch and go for strong eyes with no eye shadow needed. Use kohl and smudge it for a smoky eye effect, or go with liquid liner and make the line on the upper lid thicker toward the corner of the eye for a dose of classic old Hollywood glamor. Use at least two coats of mascara. For a nod to the one-eyed look, cock a hat over one eye, or let an ostrich feather droop down from a hat or bandanna to look through. Complete the look with true red, dark plum or bronze lipstick.
Over the Top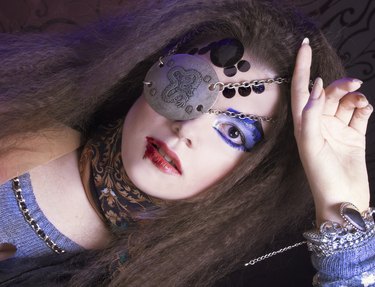 Your female pirate might be your own interpretation to suit a party outfit, a performance piece or a character. Makeup allows you to express a pirate's lawlessness. For example, break the old rule against blue eye shadow by filling in the area from eyelid to eyebrow with lighter to darker shades of blue. Choose plum lipstick to enhance a dark complexion or shades of coral as a warm complement for pale to medium skin, or use two different lipstick colors such as pale pink at the corners of the lips and scarlet in the center.