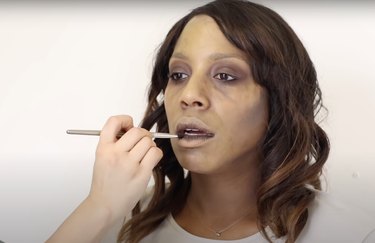 Searching for a zombie makeup DIY for your Halloween costume, a Halloween TikTok or just a really epic ‌The Walking Dead‌ viewing party? Look no further! Our zombie makeup tutorial requires just a few makeup basics, like eye shadow and foundation (no liquid latex or special effects makeup required), plus face paint that you can find on Amazon or at your local craft store.
This is one of our favorite Halloween makeup tutorials because it's beginner-friendly, and it's also easy to take it to the next level. You can customize it to your liking. For example, if you're not too big on costumes, you can wear all black and let your zombie Halloween makeup do the rest. Orrrr, if you want to step up your Halloween costume game, you can throw on a zombie costume, add fake wounds or fake blood (not to worry—we have a tutorial for that as well!) and top off the whole look with a veil for a glam-and-gory zombie bride look.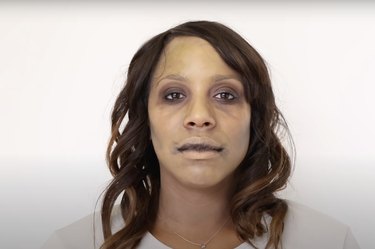 Best of all? You don't have to be a makeup artist to succeed at this Halloween makeup tutorial. In fact, the blotchier you apply the makeup, the better! We're going for undead zombie vibes, after all.
So, grab your makeup brushes and read on for all the step-by-step details on creating a Halloween-ready zombie look that's sure to entertain!
Video Tutorial: Zombie Makeup
Things You'll Need
Primer

Foundation (in a lighter shade than you normally use)

Beauty blender

Purple cream eye shadow

Dark brown eye shadow

Eye shadow brush

Blending brush

Flat eye shadow brush

Yellow face paint

Green face paint

Gray face paint

Flat-top brush

Red eyeliner pencil

Purple eye shadow

Black eye shadow

Medium brown eye shadow
Step-by-Step Zombie Makeup Tutorial
Apply a primer of your choice to your face and eyelids.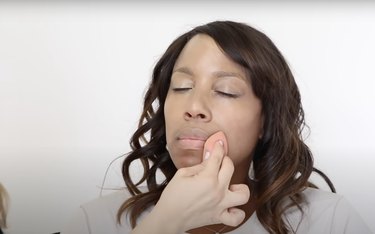 Use a beauty blender to apply a light shade of foundation to your face. Don't smooth it out and leave it a bit splotchy. Be sure to apply foundation to your neck and over your lips as well.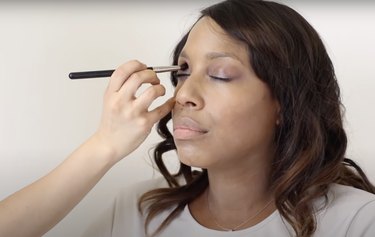 Apply a dark shade of purple cream eye shadow to both your upper and lower eyelids.
Apply dark brown eye shadow to the crease of your eyelid to create a sunken effect.
Apply dark brown shadow along your undereye area and drag it down toward the apple of your cheek with a brush and blend. This zombie makeup will accentuate your undereye bags and add to that sunken zombie look.
Use a flat brush to apply more dark brown shadow along your undereye area and around your nostrils.
6. Apply yellow face paint
Use a beauty blender to dab yellow face paint onto the middle of your forehead, down the bridge of your nose, under your nose, on the middle of your chin and along your cheekbones.
Tip
Rather than using a beauty blender, you can cut the edges of a beauty sponge to create a more uneven application method.
7. Apply green face paint
Use a beauty blender to apply green paint to your forehead, around your mouth and along your jawline.
Apply gray face paint to your cheeks to create a hollow, sunken effect. Dab on the paint with a beauty sponge (or beauty blender) and blend with a flat-top brush.
Use dark brown eye shadow to darken the eye area. Apply it to your lower eyelids, along your undereye area and in the crease of your eyelids.
10. Create "bloodshot eyes"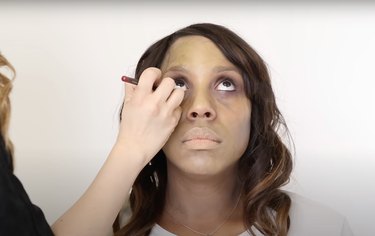 Line your lower waterline with a red eyeliner pencil for that bloodshot look.
Blend purple eye shadow on your upper and lower eyelids to further darken the eye area.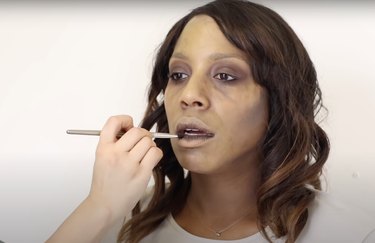 Apply dark brown eye shadow to the center of your lips and layer black eye shadow over the very center of your lips.
Mix together medium and dark brown shadows and apply to the corners of your mouth. Then, blend with a beauty blender.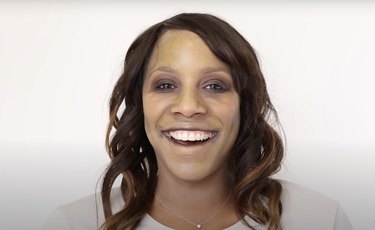 And there you have it! A glam, gory zombie makeup tutorial that'll liven up any Halloween party.