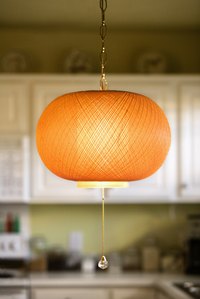 Create an easy and inexpensive hanging light fixture in a single afternoon. Use a hanging cord light kit with a threaded plastic socket to construct a custom light fixture without cutting, stripping or wiring any electrical components. Unscrew a simple plastic ring from a threaded socket, push the socket through a hole in a makeshift or purchased lampshade, and screw the plastic ring back on to secure the fixture.
Things You'll Need
Lightweight wicker basket, 8 inches diameter or larger
Threaded plastic socket hanging cord light kit
Marker
Utility knife
Electrical tape
Scissors
Hammer
Light bulb, 60 watt or less
Turn lightweight wicker basket bottom side up. Unscrew plastic ring from plastic socket of light kit. Use marker and bottom of plastic socket as a template to trace a circle in the middle of the wicker basket.

Use utility knife to cut marked circle from basket bottom. Use electrical tape to cover exposed edges of the cut circle in the wicker basket by cutting a long piece of tape to fit lengthwise inside the circle, positioning half of the tape on the top and half of the tape on the bottom of the cut circle. Then fold the tape back over on the top and bottom of the circle to create an electrical tape border to cover the exposed circle edges.
With the basket sitting open side down, push the plastic socket down through the cut hole in the wicker basket. Secure the basket to the socket by screwing the plastic ring from the light kit back onto the socket.

Use a hammer to gently tap one of the two hooks from the light kit into the ceiling wherever you have chosen to place the hanging fixture. Hand screw the hook in; then secure the fixture to the ceiling hook at the desired height.
Tap and screw the second hook from the light kit into the ceiling, next to the wall and above an electrical outlet. Plug the light kit into electrical outlet.
Screw the light bulb into the hanging fixture to complete project.