Things You'll Need
Plastic or wooden fan

Hot glue

Faux jewels

Sequins

Craft wire

Fabric strips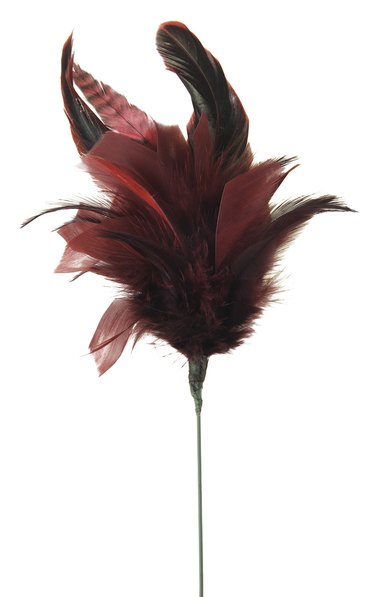 A staple of the Vegas showgirl costume is the feather tail, an often-jeweled costume piece of assorted plumage. Whether you want to make your own version of the showgirl feather tail, want to make a feather tail as a costume piece or simply want a feather tail as a homemade decoration, there are many feather options for creating such pieces. Order exotic bird feathers from online stores or collect feathers from nearby parks; however if you are collecting feathers yourself make sure they are cleaned before using them for any craft activities.
Step 1
Open a wooden or plastic fan to its full width. Cover one side of the fan with hot glue and begin arranging feathers on the tail. The type of feathers you wish to use is up to you -- go for long and thin peacock feathers, plumy ostrich tail feathers or a mix of bird feathers, such as clean cardinal, blue jay and robin feathers. If you use smaller feather varieties, remember that you will require a larger amount of feathers than if you are using large bird feathers. Allow all feathers to dry for about 15 minutes.
Step 2
Cover the other side of the fan with hot glue. Arrange more feathers on this side, either the same type of feathers you were using before or different feathers to create a more varied appearance. Allow all hot glue to dry for about 15 minutes.
Step 3
Add any embellishments if desired. Glue faux jewels and sequins to individual feathers, as well as beads. Allow to dry for 15 minutes.
Step 4
Use craft wire to secure the tail onto your person. Wrap some of the wire around the tail and use the rest to attach the tail to your waist. The tail, or fan, should be pointing up. Wrap the "belt" portion of the wire in fabric if desired if you are worried about the wire pressing into your skin.
Step 5
Use the feather tail as desired.
Tip
Use old feather bows for feather tail projects. Buckram is another option for your tail base.