Things You'll Need
Brown or black felt

Pink felt

Ruler

Scissors

Brown or black yarn

Large book about 1-foot tall

Hot glue gun

Plain black or brown headband

Large safety pin

Brown or black shirt and pants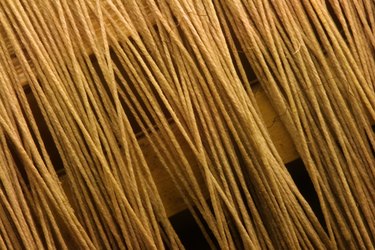 Horse costumes found at costume stores are heavy and quite warm, in addition to being rather expensive. Make your own horse costume with just a few inexpensive supplies found at craft stores, and in just a few minutes you can be out the door dressed as a horse.
Step 1
Cut two equilateral triangles from your black or brown felt with three-inch sides. Cut two triangles from your pink felt with 2 1/2-inch sides.
Step 2
Wrap the yarn around your hand about ten times. Carefully slide the wrapped yarn off of your hand, keep the shape of the wrapped yarn. Tie a short piece of yarn through the center of the wrapped yarn to hold it together. Snip the yarn opposite from where it is tied. This will be the mane for the headband.
Step 3
Wrap the yarn around the large book from top to bottom about 10 times; wrap the yarn more times for a thicker tail if you wish. Tie a short length of yarn around the wrapped yarn at the top of the book to hold the strands of yarn together. Snip the yarn at the bottom of the book to create the tail.
Step 4
Hot glue the pink felt triangles inside the brown or black felt triangles so that the bottom edge of the pink triangles line up with the bottom of the other triangles to create the horse ears. Hot glue the ears to the blank headband. Hot glue the horse's mane to the headband between the ears.
Step 5
Attach the horse tail to a large safety pin by slipping the pin through the piece of yarn tied to hold the tail together. Use the pin to attach the tail to the bottom of your shirt.