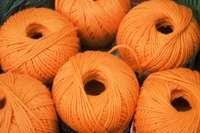 Crocheting a metal clothes hanger adds padding to it and allows the recipient to hang delicate items or strappy tops without creating hanger ridges or allowing the garments to slide. Because a crocheted metal hanger can be completed in about one hour, a set can be created in an afternoon to give as a gift or to sell at a craft bazaar. Crochet a metal clothes hanger using only one ball of yarn, or tie together some scraps left over from other projects to help use up your stash.
Things You'll Need
1 skein bulky-weight yarn
K size crochet hook
1 metal clothes hanger
Clear-drying fabric glue
Pull the end of the yarn out about 7 inches. Create a slip knot around the crochet hook. Make a loop with the yarn. Stick the hook into the loop of yarn and hook the end of the yarn and pull it through the loop. Tighten by pulling both sides of the yarn coming out of the knot. Slide the slip knot to the top of the hook.
Insert the crochet hook under one side of the hanger at the base of the crook. Wrap the yarn from the skein over the hook and draw it through under the hanger. Wrap the yarn over the hook again and draw it through both the hanger and the loop, creating a single-crochet stitch.
Crochet a single-crochet stitch all around the hanger, working up the crook last. Shift the stitches on the hanger tightly as you crochet to so as not to leave any gaps of bare metal showing.
Tie a knot when you get to the top of the crook. Tuck in or trim the loose ends. Place a dot of fabric glue on the end to secure.