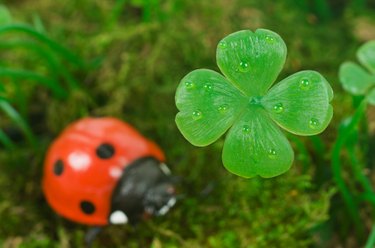 Halloween isn't a holiday just for kids — many teenagers and adults also enjoy dressing up to celebrate Halloween. Adults can plan their own costume parties or attend celebrations held at the homes of friends. Couples can choose to dress in matching costumes in order to complement each other. If your girlfriend is planning to dress as a ladybug, then you can use a bit of creativity to match her costume.
Farmers Love Ladybugs
Farmers across the United States love ladybugs because they make a habit of eating insects that destroy crops. Ladybugs consume the plant-eating insects and make a farmer's life easier. To show your appreciation for your ladybug, dress as a farmer. You can wear overalls, a large straw hat and workman's boots. Don't forget to include a flannel shirt under your overalls, and you can also roll up your pants a bit for a good farmer look.
A Blade of Grass
If you were to look for a ladybug in your backyard, you would probably find her clinging to a tall blade of grass. For your costume, you can become a walking, talking blade of grass. Wear all green clothing and use finger paint or body paint to color your face and hands. Stay close to your ladybug all night, and be sure she has the opportunity to cling to you when it is time for pictures.
Bug Hunter or Entomologist
Put on your khaki clothes and grab a magnifying glass so that you can prepare for a bug hunting expedition. Purchase a small, butterfly net to keep handy so that if you have the chance, you can try to catch your ladybug. You can also keep a notebook handy as you jot down details about your butterfly as you study her in her natural habitat.
Garden Time
Ladybugs can often be found in gardens. Ladybugs eat pollen, so they are attracted to flowers. When you meet your girlfriend, dress as a gardener. You can wear gardening gloves, a sun hat, and you can come equipped with some gardening tools. You can also choose to carry a selection of flowers such as marigolds, cosmos or dandelions. As a surprise, you can also offer these flowers as a present to your date.