If you're feeling a bit more bad witch than good witch this Halloween season, you can put together a Wicked Witch of the West-inspired costume faster than you can call out your army of flying monkeys. Start by combing your local thrift shops for some black clothes and cast your spell on the outfit by adding a few wicked accessories.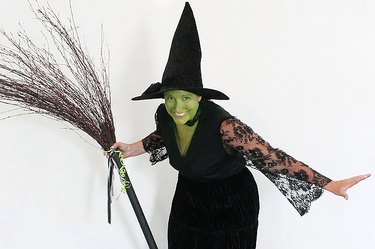 Things You'll Need
Long black dress or skirt and shirt

Black witch hat

Striped tights

Pointy shoes (black, green or purple)

1 tablespoon solid cooking shortening

2 tablespoons corn starch

Green food coloring

1 1/2-inch wooden dowel, 4 feet long

Black paint

Paintbrush

Branches

Wire and wire cutter

Assorted black ribbons and lace

Hot glue gun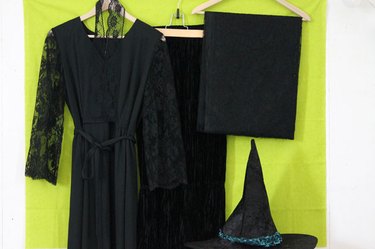 Make Green Face Paint
Nothing says bad witch quite like a green face. You can purchase pre-made face paint or you can make your own.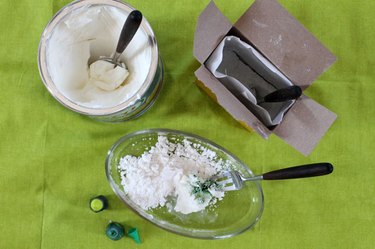 Step 1
Mix the solid food shortening and corn starch together in a bowl with a fork, starting with a few drops of green food coloring.
Step 2
Keep mixing, adding food coloring a few drops at a time, until you get the desired green color.
Step 3
Apply the paint to your face with a makeup sponge or your fingers.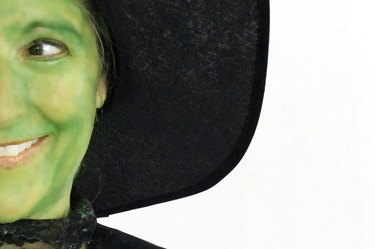 Create a Witch's Broom
The broom is also a must-have accessory for an evil witch costume.
Step 1
To make your broom, you'll first need to paint a 4-foot wooden dowel completely black.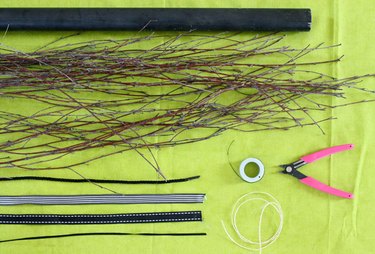 Step 2
Cut the weeping birch branches off so they are even on one end.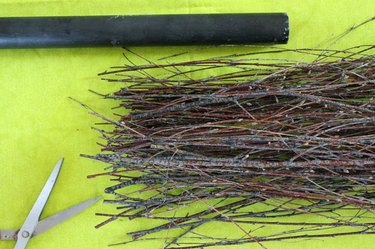 Tip
If you don't have access to weeping birch branches, you can use any other branch that you think would look good in your broom.
Step 3
Cut enough fine gauge black wire to wrap around the branches and the dowel at least twice.
Step 4
Wrap the branches around one end of the dowel and secure by tightly wrapping the wire around once and twisting it together. Then wrap the wire around again and twist the ends together, tucking in the sharp end pieces.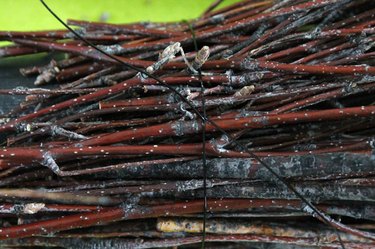 Step 5
Tie several black ribbons around the branches and the dowel to conceal the wire and complete the broom.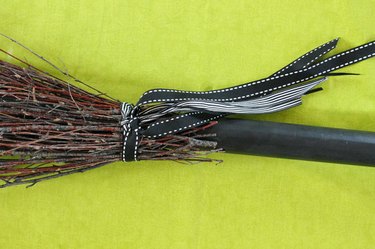 Customize a Witch Hat
To create a custom witch hat, you can keep it simple or make it more elaborate by adding ribbons or hot gluing black silk flowers to the brim. This is where the fun and your imagination come into play.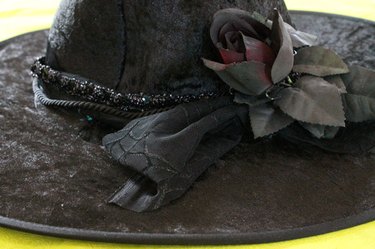 Pair With Pointy Shoes and Striped Tights
The shoes you choose to wear for your costume should have pointy toes to give them the witchy feel but can be purple, green or black. Of course, striped tights should be in every witch's wardrobe, too.
Assemble the Costume
Combine the broom, hat, shoes and tights with a long black dress or a long black skirt and black shirt. Along with the green face paint, you'll be the best-dressed wicked witch on your block.