Things You'll Need
Tulle

Matching thread

Needle or sewing machine

Elastic

Straight pins

Glitter fabric spray

Optional:

Glitter Fabric Paint

Rhinestones

Sequins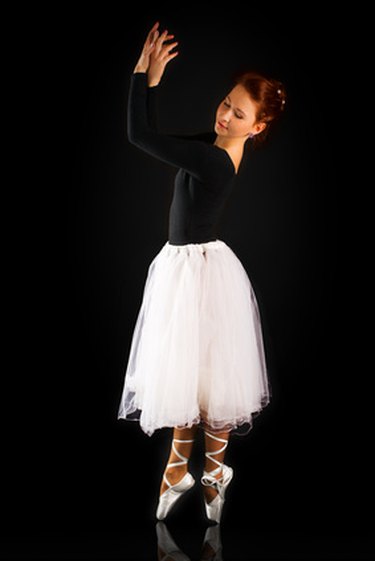 A little glitter spray and some shiny fabric can make your homemade tutu shine and sparkle. And you can brighten up the little ballerina in your household with just a little time and effort and attention to detail.
How to Make A Sparkly Tutu
Step 1
Choose a pattern. You can either purchase one in a fabric store or find a ready-made pattern off of the internet.
Step 2
Take measurements according to your pattern. You pattern should have you measure the waist and hips. It should also have you measuring from your waist down your thigh to determine the length of the tutu. Based on your measurements, cut out the pattern.
Step 3
Folding the tulle in half. If you want a fuller tutu, fold two pieces of tulle in half. The folded side acts as the bottom edge(s) of the tutu.
Step 4
Keeping the folded edge of tulle on the bottom, place the pattern on your tulle. If you are making a fuller tutu, place tulle on top of each other for the remainder of the directions. Your pattern should have at least 1/2-inch allowance for sewing. Cut your tulle to match the pattern.
Step 5
Place the top edge of the elastic 1/2 inch from the top of the tutu. Secure the elastic in place with straight pins.
Step 6
Fold the 1/2 inch of tulle remaining above the elastic down so it is now over the top of the elastic. Remove the straight pins holding just the elastic to the tulle and place them on top so they now secure the tulle, elastic, tulle layers in place.
Step 7
Sew the tulle and elastic where you have placed the pins.You can either sew it in a straight line using a sewing machine or sewing by hand. This creates the waistband of the tutu.
Step 8
Leave the sewn seam face up, or so it still looks inside out. Connect both sides of the tutu so it makes a circle or looks like a skirt. Keep in place with straight pins and sew a straight line all the way down.
Step 9
Flip the tutu right side out. The seams are now on the inside.
Step 10
Spray your tutu with fabric glitter spray. If you want more sparkle, you can use fabric glitter paint to add more glittery lines or sparkly dots. You can add rhinestones or sequins to the top layer of the tulle using a hot glue gun.
Tip
Consider using metallic tulle. It costs more but has a metallic sheen to it that adds sparkle.