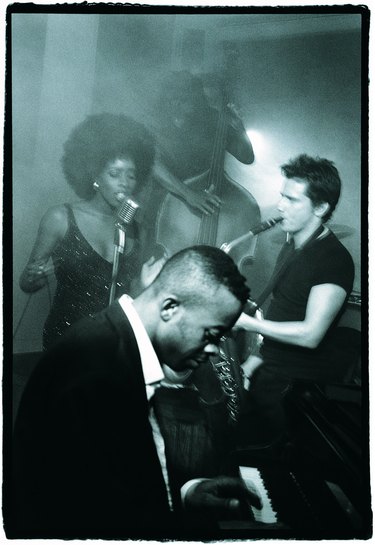 Whether it's in celebration of Mardi Gras, The Great Gatsby or purely a love of jazz, a jazz-inspired party is an exciting theme for any occasion. The music, costumes and décor are all open to interpretation and time period, allowing the host to create an exciting atmosphere and a night to remember.
Choosing the Music
Choosing the blend of music for a jazz-themed party is important. The theme could be dedicated to the high color and drama of New Orleans, the smooth jazz of today or the iconic songs of yesteryear. Perhaps a combination of all things jazz will spice up an otherwise predictable set list. Ask for suggestions from party-goers or seek out a band that is capable of playing the jazz favorites.
Jazz music has not died out in the modern age. Add the music of Canadian pianist and singer Diana Krall, Herbie Hancock of "Don't Worry Be Happy" fame, blue-grass inspired Bela Fleck and the Flecktones, or Frozen chanteuse Esperanza Spalding.
You may choose to mimic The Cotton Club from the 1940s with such iconic musicians as Billie Holiday, Ella Fitzgerald, John Coltrane, Sarah Vaughn, Louis Armstrong, Dizzy Gillespie, and Duke Ellington.
Time Period
Choosing a time period is purely optional and may depend upon the decor, type of music that is going to be played or the choice of costumes. Consistency is key if a specific time period is being chosen. The time period can also influence the type of food being served. In the 1920s, there was a great disparity among club-goers. Some opted for salty foods like ham and pretzels along with cafeteria-style or tenement fare including soups and sandwiches. Others leaned toward the more opulent side with filet mignon. A sure winner across the board is Chinese food, which was also popular across the U.S. at that time.
More modern music calls for more modern foods. The sky is the limit with modern cuisine as people become more conscious of their diets. Hors d'oeuvres or finger foods would be a good choice, or perhaps try your hand at vegan fare. Search for creative ideas on Modernist Cuisine.
1920s-Era Costumes
Nothing says jazz like 1920s flapper dresses, cloche hats and pin curls for the women and fedoras, three-piece suits and spats for the men. Nearly any type of outfit can be made into a look reminiscent of the era if you add beads or a bow tie. Visit a local thrift shop or vintage store to buy one or two pieces to make your outfit work. To add spice, decorate the room with art deco posters or 1920s fashion posters. Check out Pinterest for more ideas on what to wear.
Mardi Gras-Theme Costumes
Costumes for a jazz-themed party may be the easiest things to choose if the time period is open or based on New Orleans or another well-known jazz location. Mardi Gras costumes only have one criterion -- the wilder, the better.
The main colors for Mardi Gras are purple, green and gold, but you can use any color you want as long as it's vibrant. Mardi Gras is known for symbolism as well with fleur-de-lis, harlequin images, feathers and beads everywhere. Add as many to your outfit as you want to jazz up your evening. If you're feeling a bit more adventurous, add a mask, crown or top hat to give a finishing touch. For more ideas, check out Mardi Gras costumes on Pinterest.
Jazz Up the Decor
For a traditional jazz party, go retro with a cool and more formal vibe. Ideas include black, white and gold décor, feather centerpieces, art deco dishes, beaded light fixtures or chandeliers, candles, formal table settings and a photo gallery of iconic jazz images. To add a Mardi Gras twist, use bright colors such as green, purple and gold, jester/harlequin masks and figures, crowns, posters or photographs of New Orleans, the French Quarter or Mardi Gras from years past, feathers, fleur-de-lis designs and of course, beads.