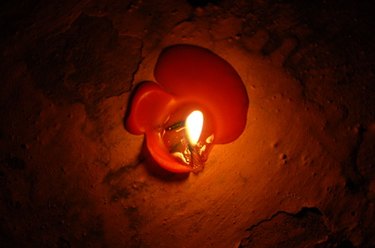 Diwali is a five-day celebration that's observed each year in India. Known as the "Festival of Lights," this holiday is celebrated with fireworks and plenty of small lanterns known as diyas. During Diwali week, hang images of the celebration on your classroom walls. Play Indian music in the background all day. Celebrating this holiday with preschoolers teaches them about new cultures and how other children live throughout the world.
Clay Diya
Give each student a lump of clay or play dough. Using their hands, students will form the clay into the shape of a small bowl. Give each child a tea light so he can estimate how large of an opening he will need to hold the candle. Place the diyas on waxed paper to dry. Write each child's name on the paper next to his diya to indicate which is his. When the clay is dry, give children tempera paints and brushes so they can decorate their creations. Return the diyas to the wax paper to dry. Send them home with children along with a note explaining how to use a diya. Remind children that they should only use candles with parental supervision.
Sampling Indian Food
Give children a taste of Indian food. Buy naan, a kind of flatbread, from a grocery store. You may also choose to make your own batch of naan with your students. Cook some brown rice with a small amount of curry powder and chickpeas so children can taste a little spiciness. Show children how to tear off a piece of naan and use it to scoop up some rice. Send a note home with parents beforehand to get permission for children to eat these new foods.
Diya Crafts
Let children make paper diya crafts to take home. Trace the shape of a flame on yellow paper and the shape of a lantern on red paper. Children will cut out one of each shape. Give them glue and gold glitter to decorate their shapes. When the glue is dry, punch a hole in the top of the lantern and the bottom of the flame. Tie the two together with string. Punch a hole in the top of the flame and attach another string. Hang the mobiles in the classroom or send them home for children to share with their families.
Diwali Party
Throw a Diwali party. Since Diwali is a festival of lights, string twinkle lights around the ceiling of the classroom. Ask children to wear bright colors, particularly red and gold, which are are traditional Indian colors. Place extra lamps or lanterns on shelves. Fill a large tub with water. Give children wooden craft sticks and glue to make small rafts. Let the rafts dry while you eat snacks or read a story, then place a diya on each raft and have races.