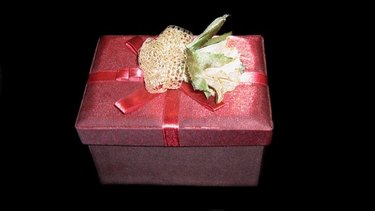 Anniversaries can be difficult for widows because they can keep them stuck in the past and prevent them from rebuilding. A widow will appreciate a gift that supports her choice to remember the past while celebrating the future.
Memory Bench
Install a bench in honor of someone who has passed away. A personalized memory bench is a tribute to a loved one that benefits the larger community and keeps their memory alive.
Memorial Planting
Honor the deceased and allow their legacy to live by giving a memory tree and hosting a memorial planting service. This gift to a widow and her community is an enduring and green way to memorialize someone's passing.
Personalized Journal
As a place to record thoughts, capture memories and document discoveries. If you knew the couple well, buy her a journal in honor of an anniversary. Select one that fits her personality; or personalize it with an image of the couple.
Subtle Gift
Purchase a "Thinking of You" card if you are unsure if she wants the anniversary publicly acknowledged. You can acknowledged the occasion without making the recipient feel uncomfortable or pressured to share.
Inspirational Literature
An inspirational book or selection of poems lets the widow know that you have her recovery and rebuilding in mind. Consider giving a book that is written by a widow or one that encourages its reader to celebrate life.