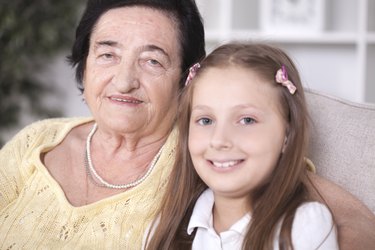 Giving simple, meaningful and small gifts can easily get your message of love and care across, especially for an older generation. If you are looking to find a gift for your 80-year-old grandmother, mother or friend, consider going simple. Not only are simple, personalized gifts easy to find and create, they can often be the most cherished.
Scrapbook or Photo Calendar
If you want to give a truly personalized and thoughtful gift, consider creating a scrapbook or family photo calendar. While this gift takes more time and effort to create, it lets your beloved family member or friend know how much they mean to you. If you're creating a scrapbook, purchase a binder or book from your local craft store. You can find various scapbooking materials, including special paper, stickers, stamps and embellishments. You can give the scrapbook a theme, such as family, vacations or life achievements. Gather pictures to create memory pages, as well as other paper memorabilia you find (such as movie ticket stubs or a childhood drawing). You can also create a photo calendar. Ask each family member to take a month and either take a picture or draw a picture for that month. You can use websites like Snapfish to scan these images and create a personal calendar.
Cozy Clothing
Choosing a simple, warm sweater or a pair of wool slippers is ideal for keeping her cozy during cold winter months. Always look for clothing in her favorite color or pattern, as well as loose, soft fabrics. Choose a cut that is simple, avoiding too many zippers or buttons. You can also add little personalized touches with your clothing gift. For instance, try folding a vintage brooch, favorite book or favorite CD from her era into the sweater for a surprise treat.
Tea Set
A relaxing and calming gift, tea sets encourage you and your family to come over and spend time with her. To make the gift more personal, gather a variety of teas that she suit her tastes. Look for a tea set with a teapot and two or four teacups. Place the tea set and tea bags together in a wicker basket lined with a decorative napkin. You can add biscuits, crackers, chocolate or honey as well. Add little handwritten notes or poems from you and your family to make the gift warm and thoughtful.