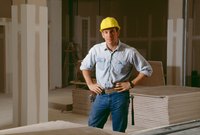 The most difficult phase of any project is knowing where and how to begin. Installing drywall is no exception. Instructions do not come with it to help guide you, so you'll want to keep a few important things in mind before starting.
Number of Joints
Drywall should be hung so as to minimize the number of joints or seams. For walls that are 8 feet 2 inches or less, a horizontal application will result in up to 25 percent less joints than a vertical application. For walls with a ceiling height of greater than 8 feet 2 inches, a vertical application will result in fewer joints.
Wall Studs
Standard spacing for wall studs is 16 inches. Using a horizontal application, there tends to be less of a chance that joints will be misaligned with the studs, resulting in a weaker joint. Vertical applications increase this chance greatly.
Drywall Taping
Once the drywall has been installed, the joints are ready to be taped. In order to accomplish this task more effectively, most professionals prefer to install drywall horizontally. This allows for the bulk of drywall taping to be done at waist level and helps prevent excess bending and stooping.
Applying Drywall to Walls
When hanging drywall horizontally, begin with the top boards first. Gently install the drywall against the ceiling, but avoid applying too much force. Secure with nails every 7 inches along studs. Then apply the bottom layer.
Applying Drywall to Ceilings
Drywall should be applied at right angles to the joints. This ensures that the proper support can be given for the weight of the drywall. If hanging drywall alone, use a T-support made of a 2 by 4 with a 1 by 4 T-brace. This should be cut to the length of the ceiling height and can be used to brace up the drywall during application.