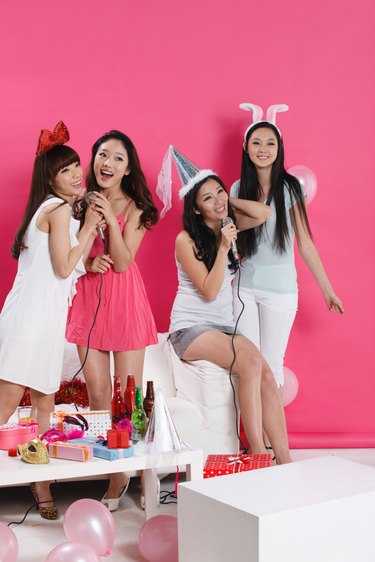 A 23rd birthday may not be a huge milestone, such as turning 21 or 25, but it's still special. Host a glamorous soiree for a girly 23-year-old complete with fabulous decor, chic activities, scrumptious food and pink cocktails.
Pretty in Pink
Dazzle your female guests by decking out your party space in shades of pink. Cover tables with hot pink satin tablecloths, and, instead of flowers, fill vases with long frilly feathers in a variety of pink colors. Use pink plates and napkins adorned with a rhinestone pin, which double as favors for your guests to take home. If guys will be attending your soiree, tone down the ultra-feminine decor while still incorporating girly elements, by using pink serving trays, clear pink glasses and hot pink napkins.
Signature Cocktails
Create a girly pink champagne martini for your party. In a cocktail shaker filled with ice, combine two parts strawberry juice with one part whipped-cream-flavored vodka. Shake to mix the ingredients thoroughly and strain the mixture into a martini glass. Top with rose champagne and garnish with a slice of strawberry. If your invite list includes the opposite sex, offer another cocktail that is more guy-friendly than a baby-pink concoction. Mix up classic martinis using gin or vodka and vermouth, and then add green olives or a cocktail onion.
Decadent Snacks
For an all-girl affair, serve a dessert buffet to complement your champagne cocktail. Offer pink-iced cake pops and miniature donuts. Use silver foil wrappers to make mini cupcakes. Once cooled, dress them up by tying fuchsia ribbons around the bases and topping them with pink frosting and edible sugar pearls. For guy-friendlier fare, offer heartier food in bite-sized pieces. Serve appetizers such as cocktail meatballs, mini grilled-cheese sandwiches and pigs in a blanket.
Glamour Girl Activities
Incorporate manicures into your birthday. Set up a nail station complete with glamorous polishes and acetone as well as cuticle sticks, nail files and cotton balls. Purchase tiny rhinestones or nail stickers so that your guests can create their own dazzling manicures. Alternately, host a clothing or accessories swap. Ask guests to bring items that they no longer want but are in good condition; then, turn your party space into a mini boutique. Group similar items together such as shoes and accessories in one area and clothing in another. Have a few full-length mirrors so that guests can try on and admire their new finds. If guys will be in attendance, turn your party into a movie night by watching vintage films in which glamor reigned, such as Breakfast at Tiffany's or Casablanca. Serve popcorn and theater-style candy.