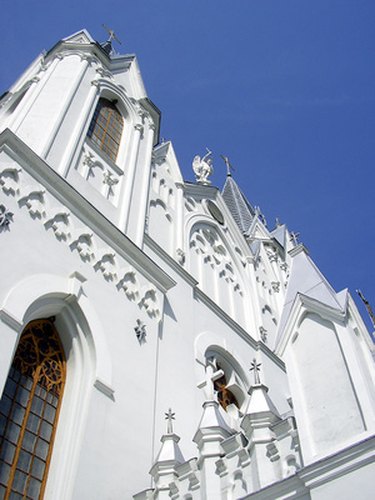 The Catholic religion is the world's largest Christian sect and has more than a billion followers. The religion has many unique customs and rituals that have been practiced for centuries. Christmas is a very special time for the Catholic church, as it signifies the birth of the savior, Jesus Christ. While some Catholic celebrations vary from country to country, many customs around the world are similar.
Advent
Advent typically begins the fourth Sunday before Christmas and lasts until December 24. This time period represents the preparation for the coming of the lord, especially the nativity. Advent candles, wreaths and calendars are displayed during this time, and some people make Jesse Trees, symbols of Jesus' roots in Israel. European Catholics usually have a feast on December 6 in the honor of St. Nicholas of Myra. Other feasts include St. Barbara on December 4, Immaculate Conception on December 8, Our Lady of Guadalupe on December 12 and St. Lucy on December 13. Las Posadas is celebrated in Mexico from December 16 until December 24. This custom entails people dressing up like Joseph and Mary, proceeding to different homes each evening and celebrating with Rosary prayers and parties.
Nativity Scene
At the beginning of Advent, most Catholic families set up Nativity scenes. They place all the figures in the scene, except for the Magi and baby Jesus. Some people add the figures one by one, each evening. It is a custom done to build excitement for the upcoming celebrations.
Christmastide
Christmastide celebrates the nativity and may be celebrated on December 25 only or from December 25 until January 13, the Epiphany. During this time period, the feasting, celebrating and caroling take place. There are many symbols associated with Christmastide, including candles, Christmas trees, laurel wreaths, rosemary, ivy, holly, mistletoe, poinsettia (or Noche de Buena) and several different types of red birds. The customs of Christmastide begin at sundown on December 24 and usually begin by lighting the Yule log in the fireplace. Devotees then go to Mass, baby Jesus is placed in the Nativity scene and special dinners are served. Most Catholics attend the midnight Mass, but there are actually two other Mass choices, including Christmas morning (Shepherd's Mass) and Christmas day (Kings' Mass).
Gift Giving
Christmas gift giving is done at different times depending on the family and their country of origin. For example, some European Catholics give gifts on December 6, the Feast of St. Nicholas of Myra. Many Italian Catholics give gifts on January 6 during the Feast of the Epiphany. Many Latin American Catholics exchange gifts on December 24, and most American Catholics exchange gifts on December 25.
Christmas Meals
The meals at Catholic Christmas celebrations vary from country to country, but most Catholics do not eat meat on Christmas Eve. Christmas Day is considered a day of unrelenting feasting. Most followers decorate the dinner table with greenery, candles and their finest china. Some people leave an empty place setting for family members who've died or cannot attend. Many cultures serve all types of sweets, cakes, fruits and candies, along with traditional dishes, such as turkey and ham.