Things You'll Need
Utility knife

Cardboard box

Straw

Paper cups

Small polystyrene balls

Paint

Markers

Yarn

Glue

Craft foam

Cloth scraps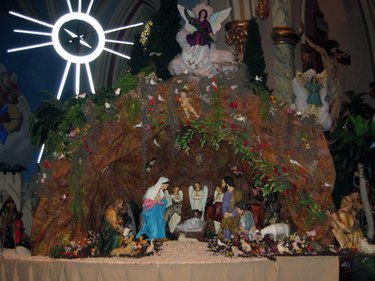 The nativity scene, or the scene with Mary, Joseph and Jesus as a baby, is commonly seen during the Christmas holiday. Many families set up a nativity scene either outside or as part of the indoor decorations. These scenes can be large or small, but they all are meant to act as a reminder about the true meaning of Christmas.
Step 1
Cut off the flaps from the top of a cardboard box. Position the box on its side, with the open side facing you. The box should be large enough for Mary, Joseph, the baby Jesus, the Three Wise Men and at least one animal. A shepherd boy and other animals are optional.
Step 2
Line the bottom with straw.
Step 3
Construct the people (except Jesus, which you will make separately). Use paper cups for the bodies, painted in earthy colors, and small polystyrene balls for the heads. Paint the heads in a skin tone and draw on faces using markers. Add hair to the figures by gluing yarn to the heads. Use craft foam to make arms and hands and glue the arms to the bodies. Use cloth scraps around the heads of Mary, Joseph and any shepherds. Each of the Three Wise Men should have a crown made of craft foam.
Step 4
Make the baby Jesus. You can use just yarn for the Him, with a cloth wrapped around the body. Wrap yarn into an oval for the body and into a ball for he head. Glue them together. Form the manger from cardboard and paint it brown.
Step 5
Make an angel or two in the same manner as the adult figures, but adding wings cut from craft foam. Also, paint the cups a pure white.
Step 6
Make a small box to represent the gifts from the Three Wise Men. The box should be a simple square of paper glued to the bottom of the box next to the Three Wise Men. Paint it to look like a chest.
Step 7
Craft an animal or two. Use a cup for each, placed on its side rather than upside down. Glue the head to the top, then paint the body and head the same color. Form mouths and tails (and horns, if applicable) out of craft foam or paper. Use craft foam for legs. Draw features with markers.
Step 8
Set up the scene with the baby Jesus in the middle, Mary and Joseph behind the baby Jesus, the Three Wise Men to one side and any shepherds to the other side. The angels can be inside the box or placed above the box, looking down on the scene. Place the animals off to any side or behind Mary and Joseph.