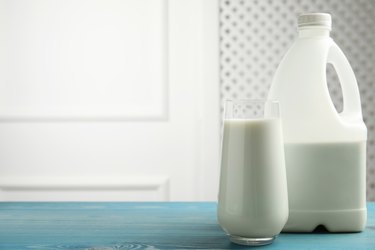 Christmas decorations need not be expensive, or even store-bought, for that matter. Use milk jugs for a variety of projects -- some of them simple enough that even very young children can complete them -- so everyone can partake in the Christmas crafting fun. Create light-up snowmen, holiday sun catchers or even Santa and elves as themed Christmas milk jug decor for your home.
Window or Sun Catcher Milk Jug Christmas Decor
Cut out a milk jug's flat sides to use as crafting material for holiday-themed sun catchers and window decorations. Use a craft knife or utility knife to slice the jug apart; if kids are creating the projects, an adult should cut the jug into flat pieces. Draw ornaments, colorful light-bulb shapes, snowmen, reindeer or Santa with a sack full of toys, using permanent markers to draw the designs. To make crafting easier for children, use holiday clip-art and coloring book images as templates to trace by placing the milk-jug plastic over the images, tracing the outlines of each before coloring them in. Cut around the images with scissors; then use a hole punch to create a means to tie a loop of gold, green or red embroidery floss through the top of the creation.
Hang the decorations from a window using small suction cups with built-in hooks. Create a holiday village by creating a series of houses, buildings and snowmen, as well as piles of snow, from flat milk-jug panels. Use suction cups to adhere them onto a window, or clear tape to mount them permanently to poster board or foam-core board.
Turn colorful felt and milk jugs into Santa and his elves for a tabletop display or holiday milk jug decor for your shelves. Wrap the opening of the jug with a piece of red felt folded into a cone shape as part of Santa's hat, held in place with double-sided craft tape or hot glue. Use cotton balls to create the rim of the hat and a ball on the end; then draw Santa's eyes on the angled part of the jug opposite the handle using a permanent marker; googly stick-on eyes may be used instead. Red felt wrapped around the sides of the jug form Santa's clothing, along with a strip of black felt for a belt. Add hair and a beard by hot-gluing cotton balls around his head and face.
To create elves, use green felt for clothing and hats; give them beards, if desired, with triangles of felt. For a simpler project, use bits of felt to create a carrot nose and button eyes and mouth for a snowman. Cut a hole in the back of the snowman to insert part of a strand of lights for a light-up snowman. Create an entire series of snowmen, linked via the strand of lights, for a festive display.
Simple and Complex Snowflakes
Trace an enlarged clip-art snowflake through a flat milk-jug panel to create a series of similar snowflakes, or create your own by drawing different six-sided snowflake shapes and sizes to create a variety of flakes. Keep the shapes simple enough to cut out with scissors; then cut out each shape. Punch a hole and tie a string through each flake to use them as hanging displays or as ornaments. Leave the flakes as-is for a simple, uniform look, or brush them with school glue and sprinkle them with glitter for a sparkly effect.
Create a 3-D snowflake by cutting out two identical snowflakes, then slicing the bottom side of one of them so the slit extends 3/4 of the way up. Slide the sliced snowflake over the top of the other snowflake at a 90-degree angle; then set it atop a table to display it.
Holiday Milk Jug Ornaments
Turn flat milk-jug panels into a series of ornaments to hang from a tree, indoors or out. Trace a circle, such as a can or jar, repeatedly over the flat plastic with a marker; then cut out the discs, punching a hole near the top of each to add ornament hooks or embroidery floss. Color the discs with permanent markers, adding stripes and designs, or make stripes in glitter by applying a line of school glue with an artist's brush, sprinkling glitter atop the wet glue. Use washi tape or patterned duct tape to create designs on the ornaments. Add names of family members or pets using metallic paint pens or acrylic craft paints.
Besides round milk jug Christmas ornaments, create shapes such as stockings, reindeer or gingerbread men. Keep the plastic ornaments away from old-fashioned incandescent Christmas lights that emit a lot of heat. Newer light strands made from light-emitting-diode or LED lights emit low heat and are a safer option.