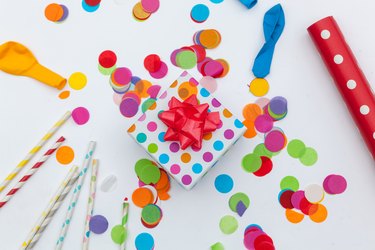 Sweet 16 represents a period in a teenager's life when she inevitably shifts into young adulthood. Previously known as a debutante party that originated in the Victorian era, a Sweet 16 party was a way to present a young woman to society in hopes of finding a suitable husband. While both young men and young women celebrate their Sweet 16 today, sweet 16 traditions such as the candle ceremony, father-daughter dance, passing of heirlooms and the shoe ceremony are typically reserved for young women.
Light Up Sixteen Candles
Lighting 16 candles acknowledges the people who are most important to the birthday celebrant, such as parents, siblings, grandparents, aunts, uncles, cousins and friends. The ceremony involves choosing 16 people and sharing something nice about each one as they approach to light a candle. According to sweet 16 traditions, the first candle represents the celebrant's parents, while the second candle represents any siblings, or if there are none, the grandparents, aunt or uncle, an honorary aunt or uncle or even a teacher. The third, fourth, fifth and sixth candles are for additional family members to light, with the remaining candles stand for friends, a boyfriend or a special friend. Alternatively, present the cake with all 16 candles burning, and the celebrant can choose to say a special thanks to those who made her day special, and if she chooses, light a 17th candle for good luck. Once all candles are burning, guests sing "happy birthday."
Remember the Father-Daughter Dance
A father and daughter dance is symbolic of the bond shared between a father and his "little girl." There are two occasions for a father and daughter to share a dance: once at her sweet 16 party when he presents her to society and then again on her wedding day. In line with sweet 16 traditions, the daughter reserves the first dance of the evening for her father, while family and friends gather to watch. Additionally, the chosen song usually holds special meaning for both. If picking a special song seems daunting, conduct a Google search or scan YouTube for father-daughter dance songs that resonate with you. If you prefer songs that are not emotional, consider a song your father really enjoys or one you both really enjoy, such as an old surf song, and have a little fun with your dance.
Pass Along Memorable Gifts
When a young woman turns sweet 16, some families choose to honor the family tradition of passing down an heirloom such as a treasured bible, quilt or a piece of jewelry previously worn by her mother, grandmother or great-grandmother. Present the heirloom with a written history chronicling the lives of those who previously owned the item. Alternatively, present the celebrant with a new piece of jewelry or even keys to her first car. As well as making the birthday celebrant feel extra special on her sweet 16, the act itself suggests she is respected, responsible and trusted by her parents.
Step Into Adulthood
The shoe ceremony represents the transition from child to young woman, and is usually performed by father, grandfather, uncle or godfather. Typically, the celebrant wears flat shoes to her party. During the evening, the important male figure in her life approaches with high heels on a decorative pillow; he helps her remove her flat shoes and replaces them with the heels. Alternatively, the mother may place a tiara on the celebrant's head. The act symbolizes the celebrant's passage into womanhood. You can also borrow from the Hispanic quinceanera ceremony, which celebrates a girl coming of age on her 15th birthday, and incorporate the tradition of passing down a favorite doll or toy to her younger sister or cousin to symbolize the end of childhood things.