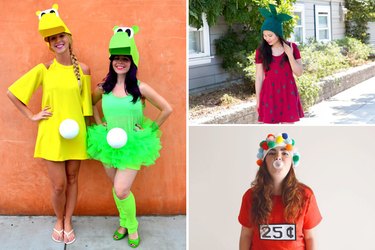 While Halloween is often targeted toward trick-or-treating for children, it doesn't mean grown-ups can't get in on the fun. This holiday is the best time to express yourself in hilariously creative and clever ways with these Halloween costume ideas.
Unfortunately, costumes for adults tend to be pricey, and it can be tough to find a last-minute Halloween costume, even on sites like Amazon that seem to have everything. Instead of splurging on something you'll wear once a year, try your hand at one of these easy DIY ideas for your next Halloween party. Your wallet will thank you too.
Emotional baggage DIY Halloween costume
Love puns? Consider making an emotional baggage costume complete with a box of tissues. Because this project is made of mostly paper, it's the ultimate budget-friendly project. Thanks to the literal take on the popular saying, this punny costume will win you a night full of laughter and compliments.
Hungry Hungry Hippo costume
Take a walk down memory lane with a Hungry Hungry Hippo group Halloween costume. This board-game-inspired idea is fitting for groups or couples who want to coordinate their Halloween ensembles. It is also a great choice when considering family Halloween costumes. After each person picks a color, they can customize the outfit by wearing their favorite type of garments. Tutus and bright colors are highly encouraged.
Plate of spaghetti costume
Are you a self-proclaimed foodie? Show off your love for good grub with a hilarious DIY plate of spaghetti costume. Made with yarn "spaghetti" and towel "meatballs," this project is all about using ordinary supplies in creative ways. The best part is that it requires simple hand-stitching and a trusty glue gun; no fancy skills are needed.
Be the (marine) life of the party with a handmade shark costume. While it may look complicated, you will need zero sewing skills and just a few hours to complete this project. You can make this with inexpensive supplies, such as felt and pool noodles. This is one costume that oozes personality and fun.
Dorothy from The Wizard of Oz
Dressing up the entire family in a group Halloween costume is a fun and festive way to bond with one another. If your entourage has many members, consider taking on the characters from ​The Wizard of Oz​. With such a variety of personalities, you'll be sure to find a costume for everyone. As for yourself? Dorothy, Glinda the Good Witch and the Wicked Witch of the West are all great adult options.
DIY female pirate costume
Dressing up as a pirate is a fun excuse to say "matey" and wear an eye patch. However, most commercial pirate costumes are designed for men. If you're looking for a feminine version, try creating a custom female pirate costume. You can use lace and embellishments to dress up a black coat. To top it off, consider making a paper parrot sidekick for your shoulder.
No-sew strawberry costume
Sometimes, easy Halloween costumes that are simple and sweet are best. This no-sew strawberry costume is the epitome of just that. Made with basic clothing, paper and felt, this project proves that a little hot glue can go a long way. It's an ideal outfit if you love healthy eating, farmers' markets or fruits.
Funny 50 Shades of Grey couples Halloween costume
If you and your significant other love puns and creativity, consider making a hilarious ​50 Shades of Grey​ couples costume. This literal spin on the popular book series is extremely easy to make and fun. In place of paint chips, you can also use card stock or construction paper in various shades of grey. Don't worry—50 exact shades aren't required.
Tryion Lannister costume from Game of Thrones
Fellow ​Game of Thrones​ fans will marvel at this Tyrion Lannister costume inspired by our favorite wine-loving character. The little boots and cardboard wine barrel are also surprisingly easy to create. A witty personality is not required but is highly recommended.
If you want something comfortable and practical, try making a watermelon dress for Halloween. Because this project doesn't use anything more than fabric dye and paint on a white dress, you won't need the extra bells and whistles of most costumes. Once Halloween is over, you can still wear the dress next summer.
DIY grape bunch Halloween costume
With an outfit like this grape bunch costume, you won't go unnoticed on Halloween night. It's pretty amazing how something as standard as balloons can mimic the look of grapes. And while this playful project may be tricky to travel with, it sure is fun to look at. For the ultimate group outfit, have a friend or family member wear our no-sew strawberry costume.
Turn any dress into an instant doll costume with a handmade wind-up key. Made with a paper towel tube and scrap cardboard, this is a great option if you're scrambling for a last-minute costume. Simply pair it with one of your favorite dresses or pick up a vintage piece from the thrift store.
Pinterest board DIY costume
Show off your social media skills with a DIY Pinterest costume. As a paper-based project featuring magazine cutouts, this project will save you a pretty penny. To replicate your actual Pinterest boards, simply print out your favorite photos and glue them to poster board or a cardboard box.
Gumball machine Halloween costume
For another no-sew project to satisfy your sweet tooth, create a gumball machine costume. Your iron and hot glue gun will play a big role in this project. The pompoms really make this costume; they're fun and playful without going over the top. It also may be a good idea to practice your bubble-blowing skills before Halloween.
Zombie nerd Halloween get-up
Dressing up as a zombie is a popular option during Halloween. Not only is it easy but it's quite entertaining to walk around like one. This year, try something new and dress up in a zombie nerd costume. This nontraditional version is perfect for bookworms who just want to have a little fun. Plus, thrift store finds and some Halloween makeup and fake blood are all you need to create this look.
Maleficent Halloween costume
Skip the tiara and steal the show with an authentic Maleficent costume complete with frightening yet mesmerizing horns. You'll be surprised at how some duct tape and clever Halloween makeup and face paint techniques can transform you into a beautiful villain from the Disney movie ​Sleeping Beauty​ and later as the star of the movie ​Maleficent​. You can even find a tutorial that shows you how to make the accessories needed to complete the look.
Garden party dollar store costume
Green thumbs and flower fans will adore this clever DIY garden party costume. Made with a generous helping of dollar store faux flowers, this outfit is a studio DIY project appropriate for novice crafters with little to no experience. To customize this flirty look, select flowers in your absolute favorite colors.
Daenerys Targaryen costume and braids
You can create Daenerys Targaryen's braids for a look inspired by ​Game of Thrones​. Your best bet is to pair your new hairdo with an elegant, flowing dress. While you may not be able to find a real dragon to hang out on your shoulder, you can purchase a toy dragon from a craft or dollar store to complete the outfit.
Lichenstein comic book makeup costume
When it comes to Halloween, cosmetics and face paint can go a long way. Consider recreating Roy Lichenstein's iconic artwork with comic book makeup. If you're hesitant about using cosmetics from your own stash, head to the drugstore and pick up the supplies for cheap. Because this look focuses on the face, you don't need to focus too much on your clothing. Consider wearing a black dress or all-black leggings or tights and a black shirt to keep the focus on your face.
Now, if you're really pressed for time, this '90s pun costume will save the day. Here's a hint: Say "9 D's" out loud. Sound familiar? For this project, all you need is a plain T-shirt—avoid using a striped shirt or any other pattern—and a black permanent marker. Complete the look with grunge-inspired clothing and you've got yourself a costume.
Snapchat filter makeup costume
Let your makeup be your costume with this Snapchat filter DIY makeup costume. A great option when you have no time, this makeup will make you the talk of the town on Halloween night.