No magic is required to create this ‌Hocus Pocus‌ charcuterie board! That's right, we've conjured up a few scary and delicious snack board ideas just in time for the release of the new ‌Hocus Pocus 2‌ movie. Your movie night guests will be spellbound when they feast their eyes on Winifred, Mary and Sarah's edible hairdos, tasty brooms and savory spell book eyeballs.
So, get your cauldrons ready—we have some spells to cast and a cheese board to make!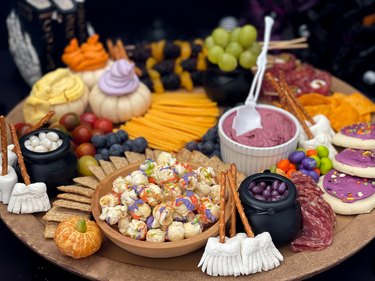 Things You'll Need
Cream cheese

Food coloring

Plastic zipper bag

Scissors

3 mini white pumpkins

Salami

Fresh mozzarella balls

Green olives with pimentos

Straw

Toothpicks

Bamboo skewers

Blackberries

Mandarin oranges

Marshmallows

Stick pretzels

Clementines, mandarins or oranges

Celery

Dip or hummus

Various crackers, cheeses, candies and fruits

Halloween candy
How to make a Hocus Pocus charcuterie board
1. Make Sanderson Sisters mini pumpkins
Let's face it—a ‌Hocus Pocus‌ charcuterie board wouldn't be complete without the Sanderson Sisters. Start by blending 4 ounces of cream cheese and orange food coloring in a blender to create an edible hairdo for Winifred. Spoon the blended cream cheese into a plastic zipper bag. Snip one corner of the bag and push the orange cream cheese into the snipped corner. Pipe the soft cheese from the bag onto the top of a mini white pumpkin to freeform the shape of Winifred's hair. Repeat this process using purple food coloring for Mary's hair and yellow food coloring for Sarah's hair.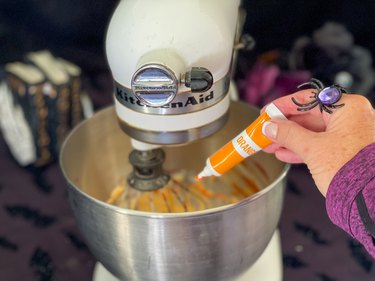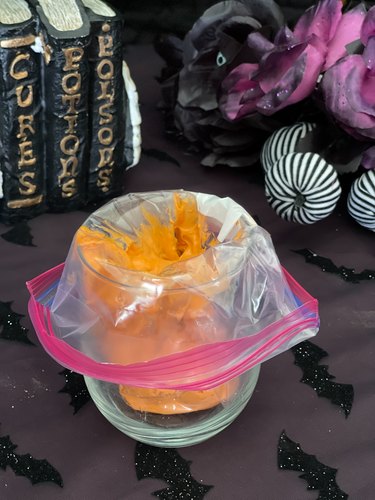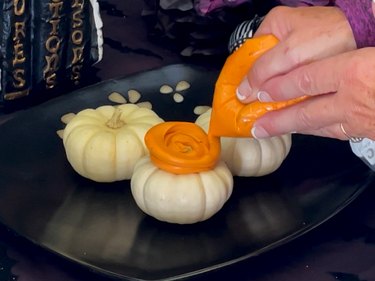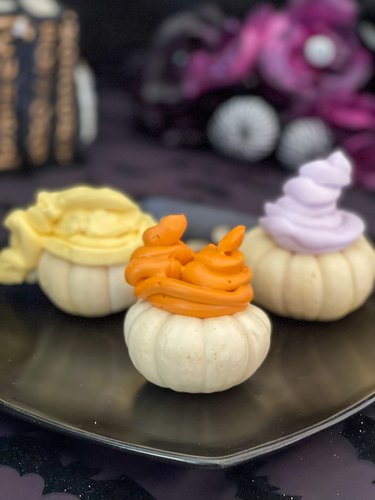 2. Create spell book eyeballs
Represent Winnie's evil spell book on the charcuterie board with a few eyeballs made from salami, mozzarella cheese balls and green olives with pimentos. First, cut the salami in half with scissors and line up six salami halves on a plate. Then, push a straw through the center of a fresh mozzarella ball to hollow it out. Insert a green pimento olive into the cheese ball to create an eyeball. Roll up the cheese eyeball in the salami and secure it with a toothpick.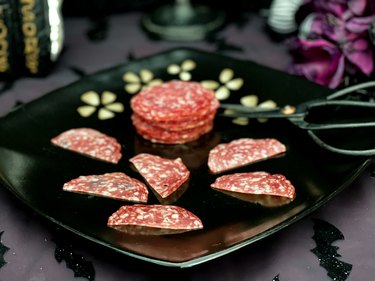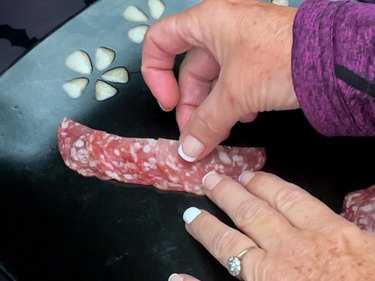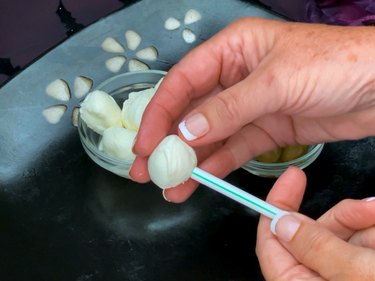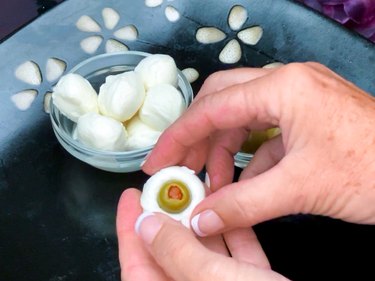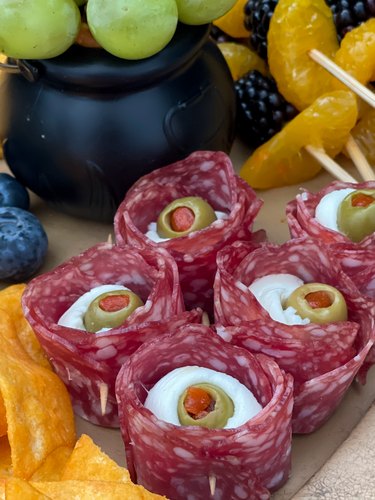 3. Skewer blackberries and oranges
Stab a few blackberries and some mandarin oranges onto bamboo skewers for another way to illustrate Mary and Winifred's iconic hairstyles.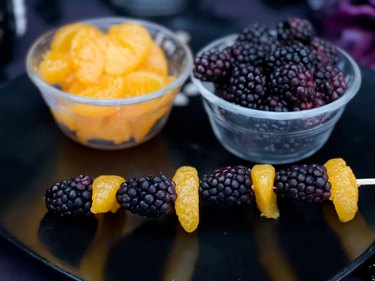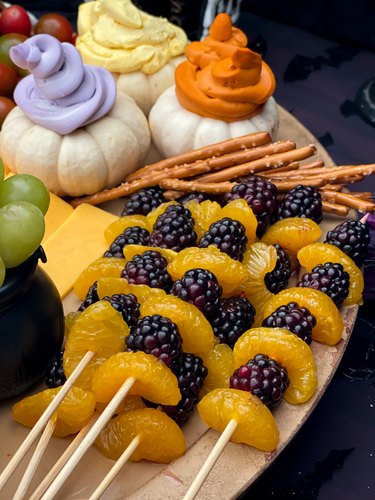 4. Make marshmallow brooms
Channel your inner Sanderson sister by making these marshmallow and pretzel brooms. Simply use a pair of kitchen scissors to snip fringe on the bottom of a marshmallow. Then, stick a pretzel in the top for a sweet and salty edible witch's broom that will look great standing on a ‌Hocus Pocus‌ charcuterie board.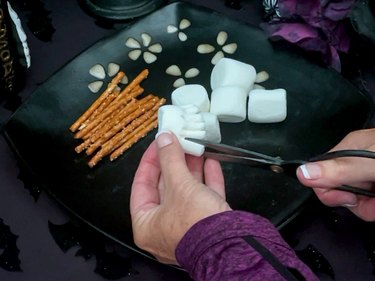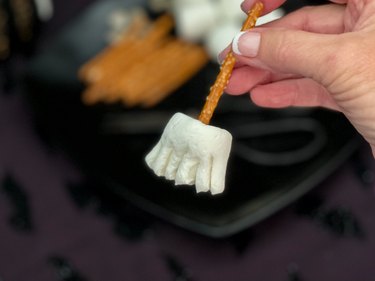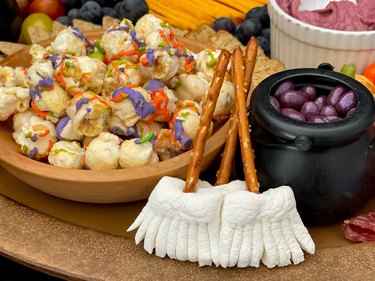 5. Create a few tiny Halloween pumpkins
For a fun and festive addition to a Halloween charcuterie board, peel a clementine, mandarin or orange and stick a small piece of celery in the top for a stem. Place them around the board to fill in a few gaps.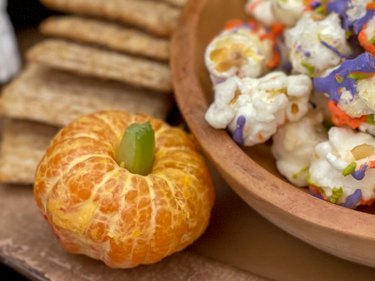 6. Add some dye to the dips
Use a little food coloring to dye the dips on the board in Halloween hues. Whether you have a bowl of sour cream ranch dip or garlic hummus, just stir a few drops of purple, orange or green into the cauldron for a colorful twist on the ordinary.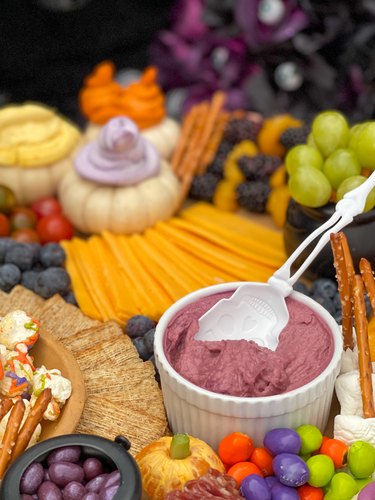 It really is a bunch of hocus pocus!