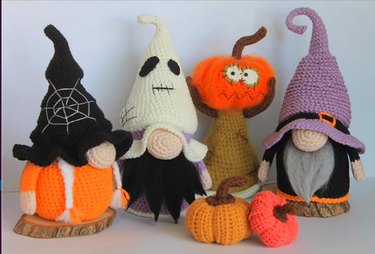 One of the best things about the Halloween season is all the festive decorations. Some people like their Halloween freaky and disturbing (check out these 5 Super Creepy Halloween Decoration Ideas…if you dare) while others prefer their Halloween to be a little less macabre. Maybe you've got young kids who aren't ready yet for major scares. Or maybe you're simply going for a more lighthearted take on Halloween. If you'd like to forgo the horror and chills—but still want to get into that gleeful Halloween spirit—these DIY Halloween decorations are light on spookiness, yet heavy on charm!
1. Make Your Own Felt Halloween Garland Kit by PollyChromeCrafts
This kit from PollyChromeCrafts on Etsy comes with nearly everything you need to make a cute and non-scary Halloween garland. The only other things you'll need are a needle, a pair of scissors and stuffing (optional, and sold separately by the shop). The regular kit makes nine different decoration pieces—from soft and lovable mummies and witches to bright green bottles of poison—while the double kit makes 18.
Each individual decoration stands approximately 4 1/3 inches tall and the completed garland is about 4 1/4 feet long. Whether you string them up as a garland or keep them separate, this is a cute and not-so-scary decoration that will liven up your home.
Squares of wool blend felt
Embroidery thread
Ribbon
Mini brads
Step-by-step instructions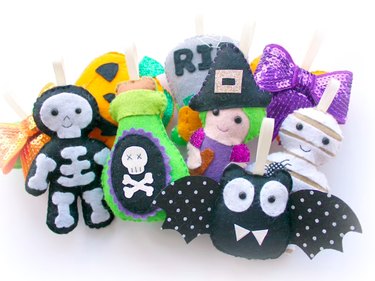 2. BOO! DIY Halloween Wood Decor Kit by ScrapHappyPagesStore
This charming kit by ScrapHappyPagesStore on Etsy comes with everything you need to decorate wood blocks that spell "Boo!", except for glue and paint.It comes with four, pre-sanded, letter-shaped and broomstick-shaped wood blocks , colored card stock, twine, a color photo example and full instructions.
The card stock covers the majority of the letters, but you'll need to paint the first "O" monster's mouth and the witch's hat on the second "O," as well as the broomstick. The letters range from 3 1/2 inches to 4 1/2 inches wide and 4 3/4 inches to 6 inches tall, and measure 1 inch thick. Each block is made primarily of pine wood, with a little bit of medium density fiberboard (MDF). The finished product would look great on a fireplace mantel or entryway table.
4 pre-sanded and ready-to-paint wood blocks
Colored cardstock
Twine
Color photo example
Full instructions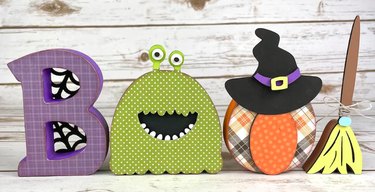 3. Trick or Treat Halloween Wreath Kit by StillWatersDesignsO
The kit by StillWatersDesignsO on Etsy comes with everything you need to make an elegant Halloween wreath—no other tools or supplies required! The finished wreath measures 27 inches in diameter and is made from a variety of pre-cut decorative mesh and ribbons. This wreath would look fantastic on either side of your front door and there's nothing remotely scary about it.
1 wreath form
1 decorative sign with pre-drilled holes
Pre-cut decorative mesh
Pre-cut decorative ribbon
Video link to step-by-step instructions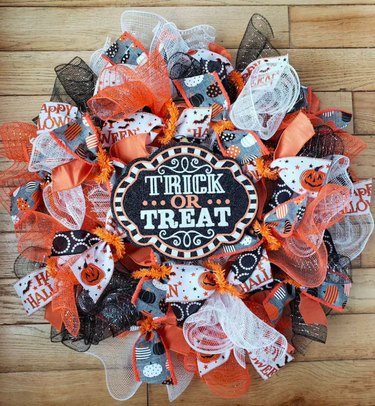 4. DIY Halloween Polygon Pumpkin by PaperAmazeDigital
If you're a fan of origami, you'll love this polygonal paper jack-o'-lantern template by PaperAmazeDigital on Etsy. The product instantly downloads as a ZIP file containing templates and full instructions—all you need is a printer, colored cardstock, glue, scissors or a craft knife, a non-working ballpoint pen or scorer, and a ruler. This creation requires A4/letter-sized cardstock paper in Orange - 09, Yellow - 01 and Green - 01 colors.
Templates for pumpkin exterior, interior and stem
Full instructions
Printer
Colored cardstock
Glue
Scissors or craft knife
Scorer or non-working ballpoint pen
Ruler
The finished product is approximately 10 1/2 inches in width, height and depth, and takes around four to five hours to complete. It may require some patience, especially if you're new to paper folding, but the end result is unique-looking and definitely worth it.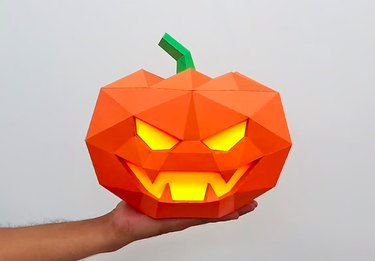 5. Candy Corn or Pumpkin String Art by StringArtFromHeart
If you've never made string art before, these kits by StringArtFromHeart on Etsy are a great way to start. Easy enough for beginners, each kit comes with nearly everything you need to make an eye-popping Halloween or autumn-themed piece of art. The only other things you'll need are a hammer, tape and glue. You can choose between candy corn and pumpkin designs (or both!). Complete with step-by-step instructions, the finished product measures 5 inches square and can be hung up on a door or gallery wall.
1 hanging wood sign (5" x 5" x 1/2")
Colored string
Strong nails
A pattern
Easy step-by-step instructions