Looking for a Día de los Muertos craft that brings the whole family together? Look no further than this fun Sugar Skull pumpkin that can be painted and decorated with kids to celebrate Día de los Muertos. And did we mention it's easy? (Phew!)
Día de los Muertos, or Day of the Dead, is a holiday tradition that originated in Mexico and is celebrated in many parts of the world. It's a special time because of the meaning behind the tradition, which is all about cherishing the moments spent with loved ones who have passed away. But make no mistake, it's also a cheerful and colorful celebration. Sugar skulls are one of the most popular elements people use to decorate altars, or ‌ofrendas‌, for this special holiday tradition. And they can be embellished with fun and crafty elements such as brightly colored hearts and flowers.
For our sugar skull pumpkin craft, we decided on a colorful felt flower crown and cutouts. But you can personalize to your heart's content. Here's what you'll need to get started, plus find tips along the way about the best kind of paint to use for decorating pumpkins and how to make felt your friend!
Things You'll Need
Cardboard or plastic tablecloth (to protect your work area)

Pumpkin

White acrylic paint

Medium-size brushes

Clear craft sealer

Gold acrylic paint or a metallic calligraphy paint

Felt sheets or sparkly form in a variety of colors

Scissors

Pen and pencil

Pom-poms

Hot glue gun and sticks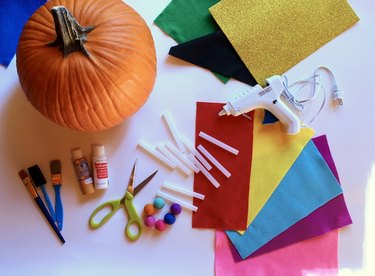 How to make Sugar Skull Pumpkins:
Before you start painting, add a piece of cardboard or a plastic tablecloth under your work area to protect it from paint splashes.
2. Paint the pumpkin white
Paint your pumpkin using white acrylic paint. Apply the paint by pressing the brush bit by bit instead of making long brushstrokes. The great thing about acrylic paint is that it's easy to use, which is great for the kids, and it's also super forgiving, because you can wipe off any mistakes by using a wet rag. It also dries super quick.
For a medium-size pumpkin, you can use approximately 3.5 fl oz. of paint.
Tip
If you want a specific acrylic paint color but can't find it at the craft store, get a small container of a wall paint sample from the hardware store instead. Just keep in mind that home or wall paint will take longer to dry and might peel off from the pumpkin if you scratch it.
Apply a coat of clear craft sealer to your pumpkin after the white paint layer dries. This seal layer will protect the pumpkin from dust and dirt, especially if your sugar skull pumpkin will be displayed outside.
4. Paint the stem of the pumpkin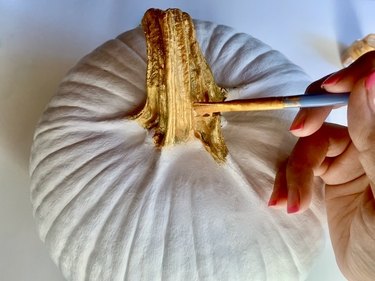 Paint the stem of your pumpkin with gold metallic acrylic paint to add a shiny touch. Metallic acrylic paint typically works great for this step, depending of course on the acrylic paint brand and its saturation. You can also use a metallic calligraphy paint pen.
5. Cut face shapes out of felt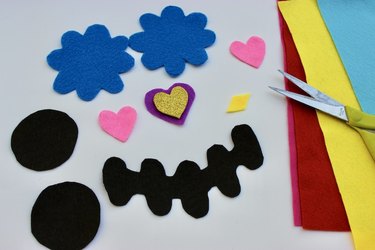 Using a pen, draw two flowers of the same color, two circles of the same color (preferably black) and two hearts of the same color on the felt sheets. Cut the shapes out.
For the nose of the sugar skull, draw two hearts using different colors of felt and in different sizes—one heart should be slightly smaller (about 1 cm) than the other so that it can sit on top of the other. Cut the hearts out of felt. You can also use sparkly foam instead of felt.
For the teeth of the sugar skull, trace five rectangles with rounded corners on felt, leaving a space of about 1/2 cm between each tooth. Next, draw a line through the rectangles to connect them. Cut out the shape from the felt. This will create the sugar skull mouth.
6. Make a sugar skull flower crown
Add a flower crown to your sugar skull pumpkin that's similar to one Frida Kahlo would wear. Start by cutting strips of felt in different colors with different petal sizes. Some can have rounded petals (like the yellow felt strip below) or a fringe (like the blue strip below).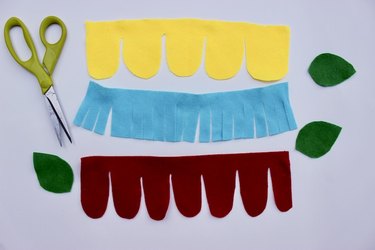 Next, twist each felt strip into the shape of a flower.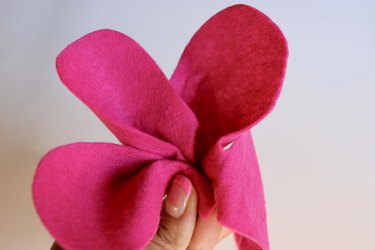 Once you're happy with the shape, secure the flower in place with hot glue, a piece of wire or by sewing it.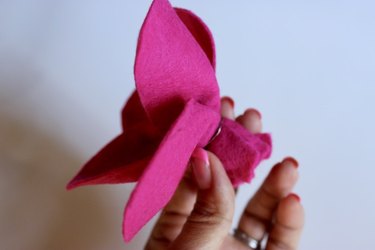 Glue pompoms in contrasting colors at the centers of some of the flowers to create visual interest.
7. Glue on all the elements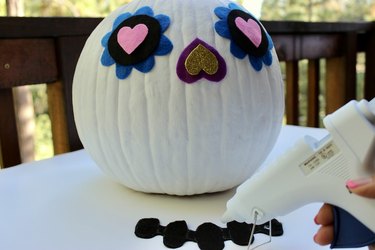 Now that all your face and flower crown pieces are ready, use a pencil to mark where on the pumpkin you want everything to go. Then glue and assemble everything.
Tip
Hot glue works amazingly well with felt but requires adult supervision. For a more kid-friendly glue, try tacky glue. Just note it may take longer to dry and require more pressing.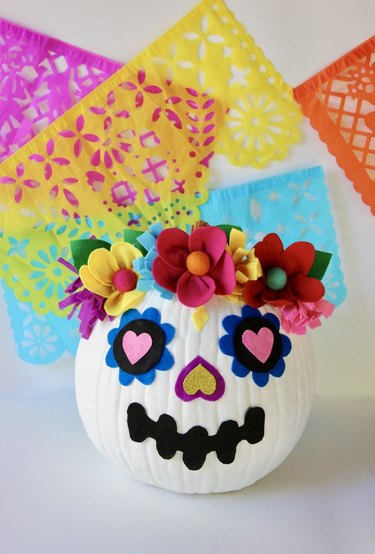 Add some ‌papel picado‌ to your decorations, and place your sugar skull pumpkin next to your home entrance or on your mantelpiece.
Happy Día de los Muertos!