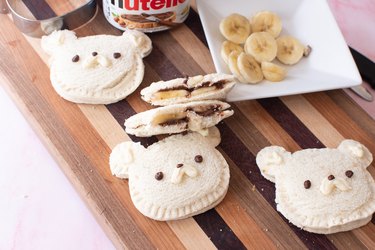 Here's a lunchtime blast from the past! Do you remember Smucker's Uncrustables? For kids (and grownups) who prefer their sandwiches sans crust, these clever crustless creations have long been a mealtime fave—and the envy of everyone else at the lunch table. With our own fond school lunch memories in mind, we created a crustless sandwich recipe inspired by Uncrustables.
These homemade crustless sandwiches provide an easy school lunch idea for your kids (or a work lunch for you!). Instead of traditional peanut butter and jelly Uncrustables filling, we loaded our DIY crust-free sandwiches with Nutella and bananas. And, of course, no inventive recipe is complete without a playful shape, so we used these bear cookie cutters from Amazon—but we encourage you to choose a shape that makes you smile. This versatility makes meal planning lots of fun while providing a unique departure from the classic PB&J.
Are you hungry yet? Let's get started on your new favorite lunchbox treat!
Video: Bear-y Cute Crustless Sandwiches With Banana & Nutella Filling
Quick Recipe Overview
‌SERVINGS‌:‌‌ 4 sandwiches
‌‌‌‌PREP TIME‌:‌‌‌ 10 minutes
‌‌‌‌DECORATING TIME: ‌‌‌5 minutes
‌‌‌‌TOTAL TIME:‌ ‌15 minutes
Things You'll Need
Rolling pin

Knife

Fork

2 piping bags

8 slices of sandwich bread (white, whole wheat, etc.)

1 small banana, cut into thin slices

4 Tbsp. Nutella

3 Tbsp. white chocolate, melted

1 Tbsp. milk chocolate, melted
Use a rolling pin to flatten slices of bread until thin.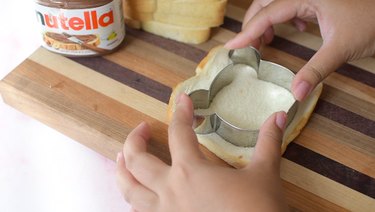 Tip
To avoid food waste, you can turn the leftover crusts into breadcrumbs or croutons!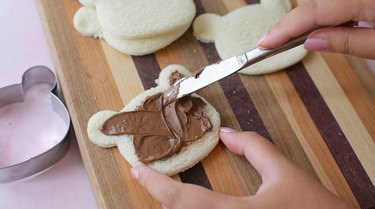 Using a knife, spread approximately 1 Tbsp. of Nutella onto a slice of bread.
Tip
Not into traditional peanut butter or Nutella? You can use another nut butter, like almond or cashew. If you're in need of a nut-free option, opt for seed butter instead—sunflower or pumpkin seed butter are both great additions. The creativity doesn't end there. For a more savory option, swap in hummus, cream cheese, deli meats, veggies or cheese for a less sweet but no less delicious crustless sandwich.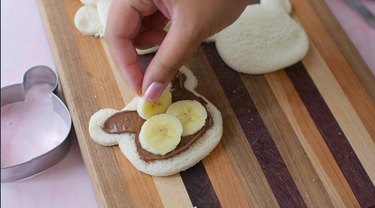 Add on as many banana slices as you can fit. Make sure to maintain a flat layer—this will make it easier to seal bread.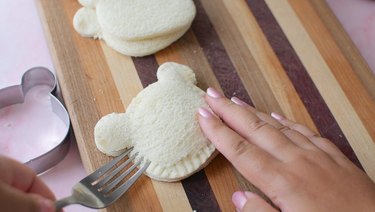 Top bananas with another piece of bread. Then, use a fork to crimp edges together.
7. Pipe ear and snout details
Use melted white chocolate in a piping bag to draw on ears and snout.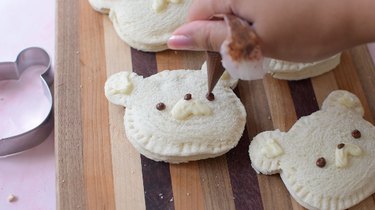 Use melted milk chocolate in a piping bag to pipe on nose and eyes. Store completed crustless sandwiches in sandwich bags or freezer bags in the freezer for up to one month. Just make sure you layer parchment paper between each sandwich so they don't stick together! Let thaw at room temperature for 30 to 60 minutes before eating.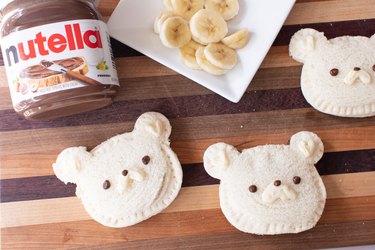 We don't know about you, but we think these DIY Uncrustable sandwiches are almost un‌bear‌ably cute. The best part? They're just as delicious as they are charming!