Taking dishes that I love and creating a lighter version at home is something that I try to do whenever possible. One of my favorite sandwiches is a Philly Cheesesteak sandwich, which is not so much on the light side. By swapping a few ingredients and making this recipe low carb, I can satisfy my craving any time that it hits! My recipe for Philly Chicken Stuffed Peppers is going to be one of your new favorite weeknight meals that you can feel good about eating.
Things You'll Need
6 bell peppers (any color you like)

4 chicken breasts (sliced in thin strips)

1 onion (sliced thin)


2 minced garlic cloves

2 tbsp. Worcestershire Sauce

1 tbsp. avocado oil or olive oil

1 tsp. salt

1/2 tsp. black pepper

6 slices provolone cheese (un-smoked)

2 tbsp. water
Step 1: Preheat Oven
Preheat the oven to 375 degrees.
Step 2: Sauté Chicken & Onion
Heat a large skillet over medium high heat and add oil to the pan. Add chicken and onions, and season with salt and pepper. Sauté until chicken is browned and onions have cooked down. The last few minutes of cooking, add the Worcestershire sauce to the pan and stir to coat chicken and onions. Turn off heat.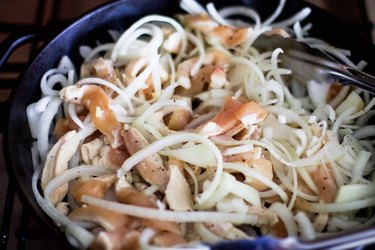 Step 3: Remove Seeds from Peppers
While the chicken and onions are cooking, slice the top off of the peppers and remove all of the seeds and insides from the peppers. Place into a baking dish where the peppers will stand up straight.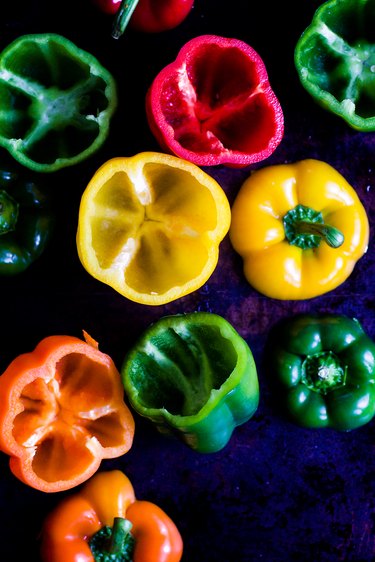 Step 4: Stuff Peppers & Add Cheese
Fill each pepper until just full with the chicken and onion mixture, and then place one slice of provolone cheese over the top. Pour 2 tbsp. of water into the bottom of the baking dish with the peppers.
Step 5: Bake Peppers
Place the tops of the peppers on the sides of the baking dish or on a separate baking pan, and then place the stuffed peppers and tops into the oven. Bake for 25-30 minutes until cheese is bubbly and peppers have cooked. Serve immediately.
This recipe is so easy and delicious that you are going to love making Philly Chicken Stuffed Peppers right in your own kitchen!
Tip
If cheese is getting too brown, place aluminum foil over the top to continue to cook the peppers.