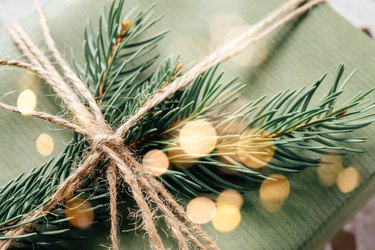 A fiber optic Christmas tree can be the centerpiece of your holiday decor, with all the colors of the rainbow and more. These artificial trees have optical fibers threaded into their branches. Those are lit up by an LED or halogen light source built into the base of the tree. The bulbs have spinning color wheels in front of them, and as the wheels turn, the ends of the fibers glow in different colors.
Replacing Fiber Optic Christmas Tree Bulbs
Like any other kind of lightbulb, these light sources will need to be replaced from time to time. This will be more likely to occur if you leave the tree on for long periods of time. To replace your fiber optic Xmas tree bulb, unplug the tree, turn it off and place it on its side. Wait about 15 minutes (it could still be hot) and locate the case on the bottom of the stand.
Use a Phillips-head screwdriver to remove the screws and carefully remove the color wheel by loosening it with the flat part of the screwdriver. Then, either unscrew the bulb or pull it out if it is the plug-in kind. If you do not have a replacement on hand, take the burnt-out bulb and either order a new one online or shop for one at your nearest hardware store. You can screw in the new optic bulb, put back the color wheel, screw the case back together and turn on the tree.
Other Kinds of Christmas Tree Bulbs
Are you not sure what kind of lightbulbs to get for your tree? It all depends on the type of decorations you have. Before you go shopping, check that and decide how many lights you will need. Some sets are sold with as many as 1,000 lights with over 300 feet of cord. LED rope lights are a popular choice. Look for those that have extra optic bulbs, flasher bulbs and replacement fuses. Another good feature for holiday lights is a timer, which saves you money and electricity as well as the need to frequently replace bulbs.
Incandescent Christmas lights have a more classic look and are less expensive than LEDs, but they use more energy and don't last as long. Try C7 or C9 LED lights or incandescent bulbs for outdoor Christmas trees and for lining roof lines and walkways. For small trees, bushes and outdoor Christmas decor, use G50 incandescent bulbs. These bulbs should last for years. One bad bulb on a cord can make the rest of them go out, so you may have to remove them one at a time until you find the bad one.
Placing Refreshed Christmas Lights
There are some other strategies for placing your refreshed Christmas lightbulbs. Try small (5 millimeter), warm white LED lights for outside branches and bushes to create a stunning halo effect near your greenery. C6 colored lights are more retro and look lovely wrapped around porch columns and hanging from Christmas trees.
C9 lightbulbs work well on roof peaks, eaves and dormers. Place the centermost one at the roof line peak and align the sides from there. Battery-operated, warm white LED lights are lovely for tabletop displays and wreaths, and C9 bulbs work best on exterior trees and walkways.