There are a lot of boring, important adult things you must accomplish this fall. Decorating your door for Halloween isn't one of them, which only adds to the appeal. Dressing up your door for Halloween is a fun and silly way to celebrate everything that's uniquely wonderful about October.
But how to choose? Whether you're hosting a Halloween party, preparing for trick-or-treaters or trying to win a door-decorating contest, there's no shortage of Halloween door-decorating themes to consider. Start your search with these 10 slightly haunting ideas. (Good thing your home has more than one door!)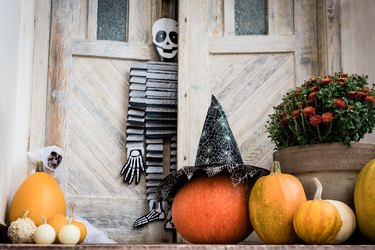 Spiderwebs rank highly on any list of the best Halloween door decorations, probably for a few reasons. First: Bags of cheap spiderwebs are readily available this time of year, making this a quick and easy DIY door-decor project. Second: There's really no wrong or right way to hang faux spiderwebs on your door, so those of us with zero artistic talent can handle this project without tears. Third: If you've ever walked through real cobwebs in a darkened room, you can relate to how scary this door decoration really is. Stick some giant faux spiders in the web to keep arachnophobic trick-or-treaters away. More candy for you!
2. Hang a glam Halloween wreath
Halloween door decorations are often either cutesy or creepy, but "glam Halloween" is an underrepresented area of home decor. Get this look with an all-black feather wreath or make your own glam Halloween wreath with loops of satin black ribbon and a basic wreath base from the dollar store or craft store. Spray plastic spiders or pumpkins with silver or black glitter spray paint and hot glue them onto the wreath.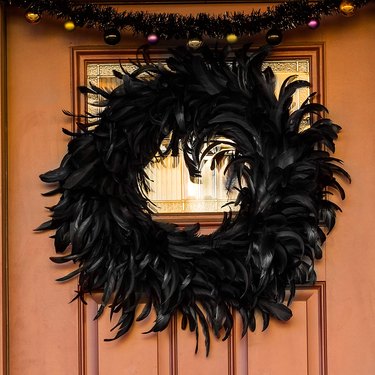 3. Keep out, you pesky kids!
Halloween fright tape three-pack
Boo! Channel your inner Scooby-Doo villain by boarding up the door like it's the entryway to a haunted house. If you're really crafty, find a video tutorial to learn how to make slabs of Styrofoam look like aged wooden boards. Hang them across the doorway along with zigzagging lines of caution tape.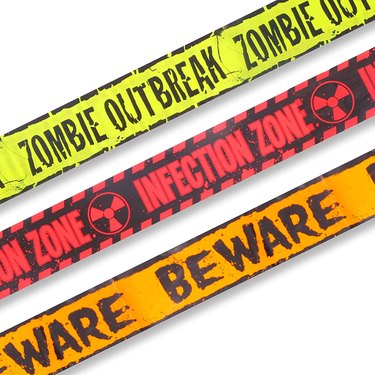 Do you need quick front-door decorations to stick up before trick-or-treaters arrive, but there's no time for a trip to the craft store? If you have black construction paper, you're home free. Make a jack-o'-lantern face by cutting eyeballs, a nose and a grinning mouth out of paper to stick to the door.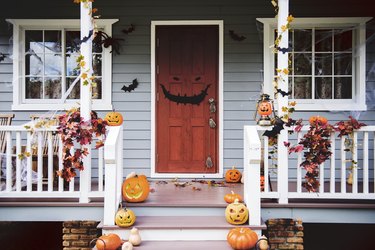 Think beyond two dimensions when you're looking for Halloween door decorations. Suspend several fabric bats from the ceiling of a front porch or from a mounted flag pole next to the door. They'll blow in the breeze just enough to thoroughly freak out anyone passing by at dusk.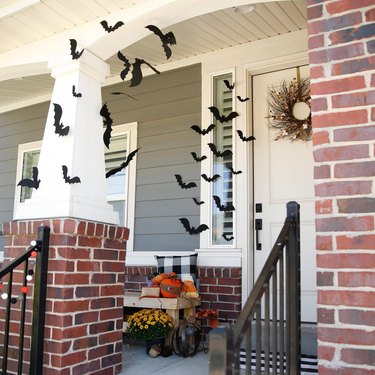 Pop-Culture-Inspired Halloween Door Decor
Think about incorporating some of these icons into your door decorations:
Jack Skellington (‌The Nightmare Before Christmas‌)
The Sanderson sisters (‌Hocus Pocus‌)
Wednesday Addams (‌The Addams Family‌)
Sabrina (‌Sabrina the Teenage Witch‌)
The Stranger Things gang (‌Stranger Things‌)
6. Make a masking tape zombie
5-inch googly eyes, 8-pack
Walking-Dead-style zombies are genuinely terrifying. Masking tape zombies on your front door are kind of cute, actually. Cover the door jamb with crisscrossing strips of wide white tape. Painter's tape is ideal since it's designed to come off without damaging the surface below. Leave gaps at eye level on the door and tuck in two oversize googly eyes to complete your temporary zombie.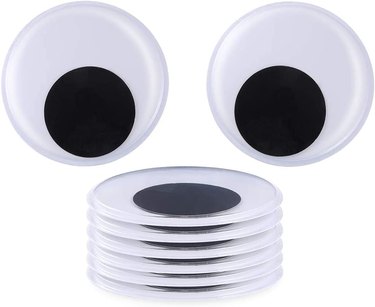 7. DIY a Halloween doormat
12 reusable Halloween stencils
While there are plenty of Halloween doormats sold in stores at this time of year, it's more fun to customize your own. Use Halloween stencils and outdoor paint to add scary designs to a basic doormat. You'll also find printable templates online that can work as stencils for this kind of project.
8. Hang a Halloween door cover
Maybe you don't feel you have the creativity necessary to put together your own Halloween front-door decorations. Or maybe you just want your door to look cool and scary with practically zero effort required on your part. (Relatable.) You're the perfect customer for a Halloween door cover, which takes just minutes to hang. There are a ton of designs available, including classic characters like Frankenstein and realistic creepy-looking scenes.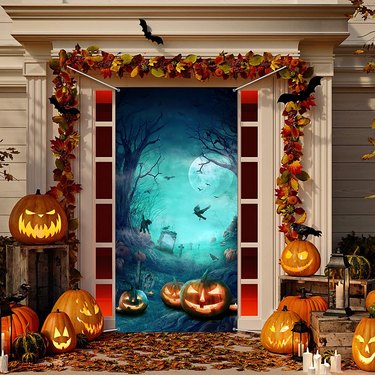 Ring doorbell Halloween faceplate
Halloween is probably the biggest day of the year for your doorbell, assuming trick-or-treaters come through your neighborhood. If you have a smart doorbell, check the manual to see if there's an option to change its chime to something creepy, like wailing ghosts. Ring doorbells can also be accessorized with Halloween decals. If you don't have a smart doorbell, set up a novelty Halloween doorbell that makes a variety of seasonal sounds when costumed kids come to your door.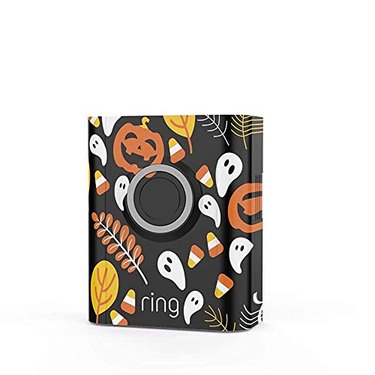 10. Fly with a witch theme
Welcome witches door sign
Would any list of Halloween door decoration ideas be complete without a witch door theme? Witch, please. There are plenty of ways to bring a witch-themed door to life. Take a minimalist approach by hanging one or more twig brooms on the door. Cut out a profile of a witch on a broom from black paper and hang it over a large circle of yellow paper or burlap to mimic a witch flying across the moon. Or cut a cauldron shape out of black paper, topped with a bubbling potion made from crumpled green paper and a simple witch hat cutout.