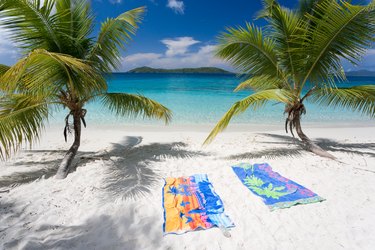 Whether you're headed to the beach for a day of fun in the sun with your kids or you plan on spending some much-needed time by yourself, a beach blanket is essential for sunbathing, lounging, picnicking and keeping the sand at bay.
Of course, no beach blanket, beach towel or picnic blanket can prevent sand from getting between your toes (and in all the other places), but a blanket can certainly limit your sand exposure while you're on it. A beach blanket can also help protect your personal items from sand and the tiny creatures that live in the sand, as well as keep you protected from the sand's heat.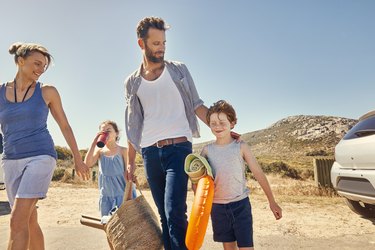 What to Consider When Purchasing a Beach Blanket
‌Style:‌ The style of beach mat you choose will largely depend on your circumstances. Will you have your hands full of kids, snacks and other gear when you head to the beach? You might want to consider a tote blanket that folds into itself and has a strap for easy carrying. Some blankets are super lightweight and fold into a compact carrying bag that can fit inside a backpack, beach bag or purse. You can also find beach blankets that are thicker with more cushioning.
‌Material:‌ Beach blankets are made from all types of materials, including water-resistant polyester, parachute nylon, microfiber and fleece. Blankets made of soft cotton are absorbent and cozy, while those made of lightweight or ripstop nylon tend to be sandproof.
‌Size and Shape:‌ The size of the blanket you choose will depend on how many people will be using it. If you have a large family, plan on sharing your blanket with several friends, or prefer ample space to yourself, a blanket that's 9 by 10 feet can comfortably hold up to seven people. Of course, the larger the blanket, the bulkier it might be, so that's something to consider. If it's just you and one or two others, a blanket with smaller dimensions will be easier to carry, care for and fold. As for the shape, most beach blankets are rectangular- or square-shaped, but you can find some that are circular.
‌Care:‌ Owning a beach blanket that's easy to clean makes a trip to the beach a little less stressful. Your beach blanket will likely need to be washed after one or two uses, so if you don't want to spend the time spot cleaning or hand washing, go for a washable machine option.
The Best Overall Beach Blanket
Our top pick for the best blanket for your beach trip is the Wekapo Sandproof Beach Blanket—and we've got several reasons. It comes in three size options (for three, five or eight people) and five two-tone color options. It has corner sand pockets and comes with metal stakes to use as sand anchors on windy days.
Even the largest size blanket can easily be scrunched down to fit inside a compact bag for portability and easy storage. The multifunctional blanket can be used for a beach day, camping trip or a picnic in the park with the entire family.
‌Dimensions:‌ 7' x 7' (3-person), 9' x 7' (5-person), 9' x 10' (8-person)
The Best Budget Beach Blanket
If you want an easy-to-carry beach blanket that's inexpensive, this one is a great option. Made from tough ripstop polyester, the blanket is durable and repels water on damp ground. Reinforced tie-down corner loops let you stake the blanket into the sand, and sand anchor pockets allow you to put sand or rocks inside so the corners don't constantly blow around when you're trying to enjoy yourself. The blanket comes in one color: red.
‌Dimensions:‌ 59" x 78.7"
The Best Beach Blanket Design
Add this gorgeous blanket to your list of beach essentials. Not only are all six designs super cute and fun, but the fabric is also water-resistant, silky soft and padded for comfort—which is ideal when sitting on rough ground with your kiddos. In fact, it's so cozy, it's a great place to take a nap (for kids ‌and‌ grown-ups).
The blanket folds into a compact shape that turns into a carrying bag with a carry handle, shoulder strap, and zipper pocket to hold your sunscreen or other small items. When folded, the blanket is compact enough to fit underneath many strollers.
‌Dimensions:‌ 5' x 5', 5' x 7', 5' x 10'
The Best Sand-Resistant Beach Blanket
Love the beach but not a huge fan of sand? This boho sand-free beach blanket from Sunlit is easy to shake off to get rid of any sand that makes its way on top. The blanket comes in a compact mesh bag, and together, they weigh less than two pounds.
The lightweight beach blanket is made of sand-resistant, water-repellent, odorless fabric, so it dries quickly and is easily wiped down. It's sold in 10 different colors and two sizes, plus it has four corner pockets that you can fill with sand to prevent it from blowing away.
‌Dimensions:‌ 85" x 72", 106" x 81"
The Best Waterproof Beach Blanket
Since the beach is near water, and water is...well, wet, it makes sense to have a beach blanket that's waterproof. Made from acrylic, EPE fabric and foam padding, this red plaid blanket can get wet without soaking up the water. Plus, the padding makes it extra comfortable to sit on the ground. The blanket folds into a carrying case for easy portability to any outdoor activity. To make things even easier, you can throw it in the washing machine.
‌Dimensions:‌ 80" x 70", 80" x 60"
The Best Lightweight Beach Blanket
Bringing a lightweight blanket to the beach makes the trek a little easier. Made of parachute nylon material, this large beach blanket isn't just lightweight, it's also sandproof, durable, and has four built-in sand anchors and a pocket.
It's quick-drying, so when you're ready to pack up, it doesn't take long for the blanket to be fully dry, ensuring you won't need to worry about a mildew smell. The extra-large picnic blanket can easily be stuffed into the included sack for portability. Choose from six colors: aqua, dark blue, meadow green, nectar, sea blue charcoal and sky.
The Best Circular Beach Blanket
You'll be the most stylish family on the beach with this circular boho beach throw. Since the throw is made of superfine, soft and absorbent material, it can be used as a blanket or a towel. It's machine-washable and comes with a carrying tote bag for easy transportation. The black and white geometric pattern will not fade, and the fringe trim adds to the boho vibe.
The Best Personalized Beach Blanket
Whether you're buying a gift or you want to personalize a beach blanket for your own family, this Bohemian Chic blanket is a beauty. You can customize the machine-washable blanket with any name (up to 18 characters) and there are three color options to choose from—black, bold or light. It's big enough to comfortably fit two grown-ups. The fabric consists of 100% polyester on the front and 100% cotton velour on the back.
The Best Beach Blanket for an Umbrella
If you want some shade while lounging at the beach, consider this beach blanket with a hole in the middle for an umbrella. The blanket is made of eco-minded 100% cotton that can be machine-washed. When you're ready to pack it up, simply roll the blanket and use the straps to secure it and carry it. The blanket features a trendy checkered pattern and is available in two colors: vintage yellow stripe and navy stripe.